Normally we don't review games that are still in an Alpha state, but The Long Dark is available for purchase right now as part of the Steam Early Access program. That means that anyone can pick up the game, currently for $20, even though it's not in a finished state to support the further development of the project. In this case, I think the investment is well worth it as The Long Dark already offers a unique and compelling experience. That's probably why over 200,000 people have already started playing the game and why we would highly recommend you check it out if you haven't already.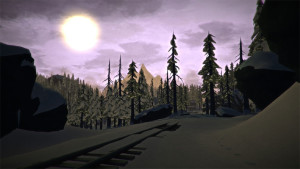 The Long Dark is a survival adventure that challenges single players to try and live for as long as possible in the Canadian highlands following a worldwide extinction event that killed off most other humans. The game will eventually feature an episodic story mode the focuses on a crashed bush pilot, but for now, there is only a sandbox mode and two maps to explore. That may not sound like much, but it was more than enough to keep me entertained for many hours. The fact that game is in first person really gives it that "What would I do in the same situation?" type of feel that I've not experienced in this type of quasi-realistic simulation before. The fact that this is a perma-death type of game also makes the struggle for survival even more intense.
There are no zombies in the game or aliens or monsters – though the magnetic disaster has apparently made the wolves extremely aggressive. It's really one man or woman against nature. But don't worry, there are plenty of things out there in the real world to kill you. Your biggest enemy is likely going to be the cold. Weather patterns are randomly generated each game, but the land is always covered with snow. I've played where there was a stretch of good weather that lasted for a couple days and I've played where blizzards ravaged the landscape. The game takes into account the type of clothing you are able to find and uses that as a sort of armor against the cold temperatures. It also factors in the wind, so if you are decked out in something like fleece, you might be good if it's calm and cold, but will be in trouble if the gale force winds start blowing.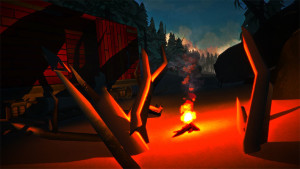 At least in the sandbox demo, there are no other people. The game will apparently feature (and further explain) a natural disaster that has to do with the shifting of the magnetic poles. I have found quite a few bodies lying around, but whether or not those people starved to death, died of exposure or were killed in the natural disaster, I don't know. It's kind of creepy to think of stealing the long underwear off a dead guy, but trust me, you will if it means keeping the cold at bay just a little longer. The two available maps are Mystery Lake and Lost Highway and both feature abandoned buildings and homes to explore, though most of the world is open, cold and unforgiving wilderness.
Going inside a building will get you out of the wind and the cold. There is everything from fishing shacks to forestry service outposts to abandoned cabins and houses to industrial areas like dam control rooms. Finding a nice place to get out of the cold for a while is one of the highlights of the game. Not only can you turn that place into your base of operations, using it to store food and medicine you've found, but most places are packed with at least a couple useful items that you can find by carefully searching cupboards, boxes and containers. A few rare buildings have pot-belly stoves in them, allowing you to light a fire to get even warmer, as well as doing necessary things like cooking raw meat and fish or melting snow to create drinking water. Most skills like fire-building, cooking and sewing are skill-based and will increase over time with use – and quite a few failed efforts.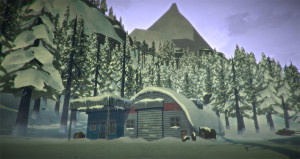 Pressing tab at any time will bring up a status bar showing your overall health. You have "want meters" based on temperature, hunger, thirst and exhaustion. If any of them climb too high, your overall condition will start to decrease down from 100 percent. If you don't meet that outstanding need by eating a candy bar or finding a warm spot, you will eventually die. Thankfully it takes a fairly long time to die, so most of the time you will have enough of a chance to try and remedy the situation.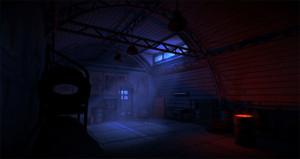 In addition to finding shelter and warm clothes to combat the cold, hunger is going to be a challenge. If you are lucky enough to find a rifle and some ammo, you can hunt deer for meat, leather and their guts (which can be used in crafting). You can also set snares to try and trap rabbits. Sometimes you will run across a dead animal too, though this often means that wolves are nearby so you need to be wary. You can try to ice fish with the right gear or simply scavenge food from abandoned cars and homes along the way. I would highly recommend learning how to hunt or fish though, as you probably won't be lucky finding tins of peaches or candy bars lying around all the time.
One of the most impressive things about The Long Dark is the number of factors that it takes into consideration. Wind works against you when factoring in temperature, but so does the condition of your clothing or whether or not you've managed to get them wet. The game also lets you remedy those negative situations, by for example, using a sewing kit to repair your clothing or finding a nice wind-proof top layer jacket to put on over your wool sweater. You can even catch diseases by doing things like drinking from unclean water or eating raw meat, and you can get hurt by falling over a steep edge at night. Thankfully you also have a full first aid kit, stocked with whatever you can scavenge and a nice interface for treating your various injuries. The developers have stated that they are not trying to make a realistic survival simulation, but The Long Dark comes closer to anything that I've played along those lines before.
Graphically, the game looks really good, with stylized cartoon-like graphics. It really reminds me of a Telltale Games title in terms of the art work. The sound is also pretty good, with nice little touches like squeaky floorboards in abandoned cabins and things like wolves barking out a warning when you get too close. Most of what you will hear though is the howling of the wind, which is a deadly reminder of the danger when you are outside, and more than a little comforting once dulled by the walls of your warm, makeshift fortress for the evening.
The amazing thing about the sandbox mode is that you generate your own stories each time you play. Like the time I was starving but mostly unarmed, so I threw a road flare at a wolf that had just brought down a deer. It scared him enough to run away. I quickly used my little knife to carve out a nice chunk of raw meat and then ran off. I even put off my hunger long enough to cook my steak. I know it's virtual, but I can imagine how great that steak tasted.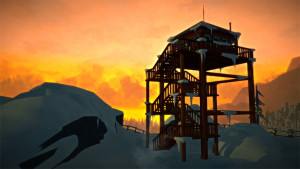 Or there was the time I finally was able to craft a fishing line and went out ice fishing on a frozen lake. I caught quite a few fish, but ended up getting stuck in a blizzard. It was nighttime and I couldn't find the way back to the little shack I was using as a home base. I stumbled around blindly and ran into an abandoned house out on a frozen island just in time. I stumbled in the door and made my way to the bedroom because I was exhausted and collapsed there. After sleeping for an hour, I woke dehydrated on top of everything else. Thankfully I was able to find an oasis of clean water – in the back of a toilet. Beggars can't be choosy. And I'm sure most players will do that and worse in order to survive.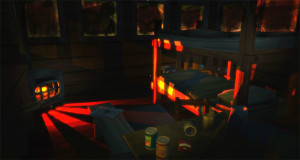 The game isn't perfect of course. One would not expect it to be so in the Alpha version. But there is a robust community talking with the developers at Hinterland Studio and they seem to be listening to the players and making changes. Given the experience of the developer team who has worked on games like Company of Heroes, Far Cry 3, Warhammer 40,000: Space Marine, Saints Row, Red Faction, League of Legends, God of War, Mass Effect and the Baldur's Gate series, it's a pretty safe bet that The Long Dark will only get better. And it's a pretty fun game even now.