I will have to admit, I enjoyed Sid Meier's Civilization V a lot. Though some of my other colleagues might not have enjoyed it as much as I have, I always go back to playing it, and find it the perfect way to kill off hours of my time. And though I only played its Gods and Kings expansion, I still have a desire to play the other expansion, Brave New World, just to see how it affects the core gameplay.
In addition, there is another classic 4X game that I still play to this day, Sid Meier's Alpha Centauri. While it can be considered a spiritual successor to (at the time) Civilization II, it featured many various elements, particularly in the science fiction field, that made it a game of its own. Not only did we have seven different ideological factions battling for control of "Planet," but we were also facing the wrath of "Planet" itself. Either one can communicate with "Planet" and use its indigenous life as an ally, or it can damage the ecosystem and have the lifeforms violently attack your colonies. It was an impressive curveball thrown into the usual 4X structure.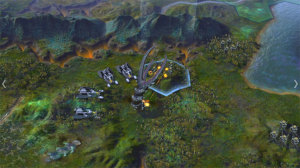 And then, we had the "Alien Crossfire" expansion which brought five more Unity based factions, and two warring alien races, into the mix. Even today, 15 years after its release, I still go back to it on occasion. So when I heard that FIraxis would be going back into space for a follow up to Civilization V, I was ecstatic. That's where Civlization: Beyond Earth comes into play, and for most of the game, it ended up a good, if not great, effort to bring back the Alpha Centauri universe.
Beyond Earth takes place at the start of the 27th Century. An intentionally ambiguous disaster known simply as "The Great Mistake" urges the people of Earth to seek life on another planet. Several planets are located, and it is the choice of the player to colonize one of them and start life anew. Your colony is based on the selection of one of your sponsors (American Reclamation Corporation, Franco-Iberia, Pan-Asian Cooperative, Slavic Federation, Polystralia, Kavithan Protectorate, Brasilia, and People's African Union,) your special colonists (scientist, refugees, aristocrats, engineers, or artists,) your spacecraft's special ability (coastal reveal, wider selection radius for your first city, instant viewing of elements, bonus energy, or locating alien nests.) and your starting unit/technology (extra population, research of Pioneering, first clinic, solider unit, or worker unit.) From there a planet is chosen based on the type of land structure (a Pangaea, continents, or archipelago)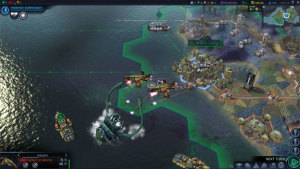 From there, developing your world will feel the same as it did in Civilization V, but featuring alien landscapes as opposed to Earth. In addition to the alien races replacing barbarians, there are also poisonous "miasma" hexes that can damage units as they cross over them. Special artifacts can also be located, resulting in expeditions by explorer units in an attempt to learn more about the planet.
And this is where the new "quests" system comes into play. As the world expands, special missions are brought into the fold. While most of these quests consist of a single decision, such as whether a base improvement can be used to produce more material or given free maintenance, other missions can be multiple parts, as in the expeditions listed earlier.
And of course, there are the "main" quests, the ones that result in victory conditions to win the game. Usually when I play I favor a technological victory. Previously that meant building a ship and landing on Alpha Centauri (though in Civ 5 I ended up going Cultural and developing the Utopia Project.) But in Beyond Earth, technological victories are earned depending on three different "affinities;" moral decisions that encompass the way your faction treats life on the planet.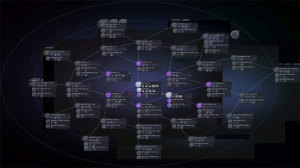 For instance, the Harmony affinity works with the alien race and wildlife and uses it as an ally, eventually adapting to miasma and even using it to heal. Eventually Harmony affinities will lead to the construction of what is called the "Mind Flower" to accomplish a "Transcendence" victory, similar to "The Ascent to Transcendence" from Alpha Centauri.
On the other hand, a Purity affinity centers upon changing the planet to be more akin to a pre-"Great Mistake" Earth. Their technological victory is known as "The Promised Land," which is earned by constructing a Warp Gate back to Earth and summoning up to 20 Earth Settlers to build a colony of their own on the new planet.
Lastly, there is the Supremacy affinity, a largely mechanical affinity whose goal is to replace their organic bodies with mechanical ones and achieve a form of immortality. Their victory condition is called "Emancipation," which consists of constructing an Emancipation Gate and sending military units to Earth. The gate must accept a military total of 1000 strength in order to win.
Victory can also be obtained via the usual Domination victory, which is earned by having the only surviving original capital, as well as a "Contact" victory, which requires location of a "Progenitor Signal" via exploration, construction of a Deep Space Telescope orbital unit, or finishing the Transcendental Equation National Wonder. Once the signal is decoded, a Contact Beacon must be built, activated with 1000 energy (Beyond Earth's equivalent of gold) and survive for 30 turns.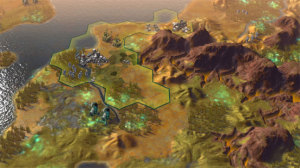 I favor the forms of victory in Civilization: Beyond Earth compared to previous games in the series. It adds a bit of competition between all the technological advances compared to Civ V, which could end up just being a race of "who gets the wonders" first. The same can be said for the technology "web." Since we are dealing with futuristic technology, there is no accurate way to predict the order of how technology is discovered, it now can be branched out based on what you want to research more. Each web segment can also branch out to study two sub-technologies or they can be ignored altogether. This really helps out if someone wants to center on a specific affinity to win. In addition, it means each sponsored faction can fight each other over different wonders, so one faction will not end up with all of them. In addition, this also makes obtaining all technologies impossible within the 500 turn limit, so choose wisely.
However, despite all these impressive features, in the end the game feels a bit more like a standalone expansion to Civilization V. It still follows the same hexagon based movement system, and yes, that includes the same "only one unit per space" rule which I do not like. It makes it more difficult to move my units, especially when I tried to get the Promised Land victory and couldn't move all my Earth Settlers at the same time, resulting in a bit too much micromanagement (on a side note, I had the same issue with spaceship parts in Civ V as I now had to move them to my city's Launchpad.)
Then there are the diplomacy screens. They seem a bit bland compared to when discussing matters with historical figures, and the dialogue repeats itself way too much. I'm about to take a shot whenever CEO Suzanne Fielding of the ARC says "As Adam Smith said, trade is the lifeblood of nations." Or when Polystratia's leader Hutama says "What's mine is yours…for a price!" A little variety would have been nice. But there is one element in the diplomacy mode that I am very happy to see added…favors. Eventually if someone asks for too much from you, favors will be built up which can be used to obtain more in exchange, and in the end it became a huge source of Energy economy for me.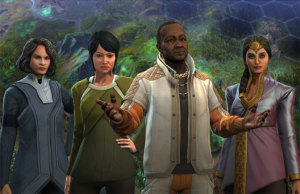 Espionage ended up being a huge source of economy for me as well. In the past I really didn't use my spies that much, but in Civilization: Beyond Earth they are much easier to use and maintain. Once a spy is placed in a city they can take part in covert actions as simple as establishing a network in the city, all the way up to sabotaging a city, summoning a mindworm strike, or detonating a dirty bomb. Finally I've found a better use for covert ops.
Unfortunately the way the game ends is a bit on the disappointing side. There is some text and a slight narration saying how victory was made, and that's it. You can't access the replay at that moment (only on the Hall of Fame screen) and you can't see how you rank. I would have loved to see what the futuristic equivalent of 0% Civ staple Dan Quayle would have been. Hopefully with the eventual DLC that will come out, this will be resolved.
But for a game with an impressive presentation, including a beautiful and hypnotic score composed by Griffin Cohen, Michael Curren, Geoff Knorr and Grant Kirkhope, I was hoping for a bit more. As of now, Civilization: Beyond Earth, despite being an enjoyable successor to Civlization V, it still falls a bit behind the iconic Alpha Centauri, and I hope it just builds up from there. Hopefully we'll get something along the likes of Alien Crossfire, as well as a living world that will prove as much an enemy as a rival sponsor. I can only dream for now…
[amazon asin=B00JLK6ULS&text=Pick Up Civilization Beyond Earth at Amazon!]
Pros: A very good attempt to provide what a future version of Civilization V could have been. Technology Web provides competition and variety between factions, and removes any one from running away with all the wonders. Beautiful soundtrack. Technological victories are more challenging. Corporate espionage is excellent, and works out quite well compared to past games.
Cons: Not as good with the sci-fi aspect as the classic Alpha Centauri. The world does not feel as self aware or living, and does not defend itself from eco damage. Conversations with other factions spew the same line over and over again. The "one unit per space" phenomenon continues. Endings can be somewhat dull.
Review Note: This review is based on the final release of Civilization: Beyond Earth provided by Steam code by 2K Games.