Hey all I'm back with the final entry in the James' adventures in space. It's War's Reward, The Free Fleet Book 06, by Michael Chatfield!
Editor's Note: We are reviewing the entire Free Fleet series. Check out our reviews of The Recruitment: Rise of the Free Fleet, Coming Home, No Rest for the Wicked, From the Black, and From Furies Forged.
Plot: This is the end of the series, so I won't say much other than that with this series ending the plot threads have all been wrapped up fairly well. I won't say this was my favorite ending to a series, it's far from that, but it didn't leave me feeling cheated like Mass Effect 3 left me feeling at its end.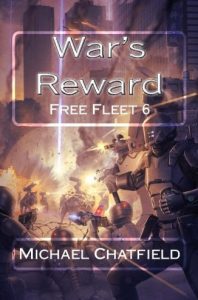 Looking back it should have been obvious to me that this would be a darker series than I prefer usually, and I might have been better served dropping it after the first book and it's less than wholesome plot devices. That said I got through it, and if you can get over the doom and gloom atmosphere of the books, then it wasn't a terrible series, but it's far from being one of my more enjoyed ones like Mr. Chatfield's later Emerilia series.
Characters: James "Salchar" Cook's grown quite a bit over the course of the series, but there were times I wanted to give him a good kick to the head for his stupidity and doing certain actions. Yasu, still my favorite character on the other hand grew in a much better manner than James in my opinion. Honestly the entire cast was good, but not amazing. The only thing saving them from being mediocre was Yasu, and that was still cutting it close for my standards.
[amazon asin=1535438223&text=Pick up War's Reward, or any book in the Free Fleet series, from Amazon today!]
Overall: It's an ending to a series that was fairly dark, but considering how it was the authors very first series he wrote, I was willing to give it a shot. I'm not super psyched that I did, but I wasn't so overly disgusted at some uses of certain plot devices that I ever felt the need to stop listening. If you can get over that dark tone, you'll probably enjoy The Free Fleet and it's ending book, War's Reward.