Hey all I'm back with the penultimate entry in Salchar's war across the cosmos this week. It's From Furies Forged, The Free Fleet Book 05, by Michael Chatfield!
Editor's Note: We are reviewing the entire Free Fleet series. Check out our reviews of The Recruitment: Rise of the Free Fleet, Coming Home, No Rest for the Wicked, and From the Black.
Plot: In a trend I saw coming from miles away, From Furies Forged continues to become even darker than previous entries, with ramped tension and drama building up for what is looking like a rather spectacular finish. If you don't mind the lack of subtlety, you'll enjoy this second to last book in the Free Fleet series.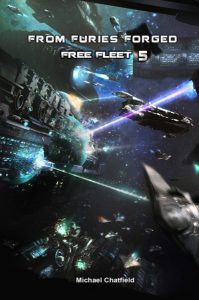 Characters: James got some much needed character growth in the last book, and while there were story developments that had me wanting to throw my old iPod out the closest window at times, I stuck through it. Honestly while I'm not really a huge fan of this series anymore, it's not the worst thing I've ever read or listened to. But the character and plot developments are not at all happy days. So while I've repeatedly mentioned this in previous reviews before, if you are still sticking through with the series in the hopes it gets lighter, and can't handle darker, more serious stories than you are probably better off not reading it.
[amazon asin=1989377130&text=Dont miss out on this action-packed sci-fi adventure. Pick up From Furies Forged from Amazon today!]
Now back to the character side of the review, I still found Yasu to be my favorite character, if only because she's an absolute badass warrior "princess." The rest of the cast is okay, but Yasu still trumps them all in my books.
Overall: Like I've said in past reviews before, and will likely say one more time after this, From Furies Forged is a gloomier entry in the Free Fleet series, that's kept the tone fairly consistent throughout the entire series.