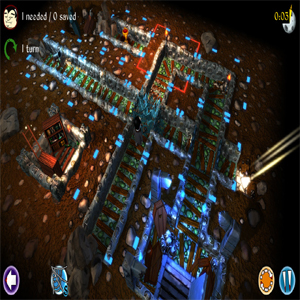 Vampires! is a comedy puzzler where non-glittering drunken bobbleheaded ignorants meet reversed tower defense. Vampires! are a genre mix where strategy, puzzle and action meet fun and frustration. The goal of the game is to guide those bobbleheads through labyrinth and into their crypts while avoiding obstacles, traps and vampire hunters on the way.
Originally released on mobile devices, the game is now back improved, polished, full of Steam goodness and Halloween themed! To celebrate the launch the game is also discounted 10% from original $4.99 to $4.49 only. But be quick as the promo lasts until October 29th only! Still hungry for surprises? Grab Vampires! soundrack now in .mp3 or excellent FLAC quality for as little as $2.69!
What is it all about? Well your main objective is to save vampires by leading them safely through the labyrinth and into their crypts. To do so, you can rotate the labyrinth parts to create new paths or use garlic-based repellent and spider-net slowdown to prevent vampires from walking into peril. Many traps are indeed lurking for the poor vampires. Starting with simple ones like pure light, things get more complicated down the road. Mobile wooden stakes, silver gun bullets, hired assassins or crazy garlic sappers wait impatiently to vaporize your vampires once for all. Now do you think you've mastered the game already? Wait! There's more. Each non-tutorial level can be completed with additional objectives to earn silver or even gold status. And rest assured that the gold status will not be easy.