Like most people, I love open world gaming where you can go almost anywhere and do anything, in any order that you choose. Tom Clancy's Ghost Recon Wildlands takes that concept to the extreme, practically giving players the entire country of Bolivia as their sandbox warzone. As such, Wildlands can become whatever you make of it. If you love exploring and attacking your enemy your way on your terms, the Wildlands responds with almost unlimited gameplay. However, this requires a lot of push from players. If you don't put a lot into it, there is a danger that you could grow bored.
Wildlands puts the player and three Ghosts in the role of a special black-ops force inserted into the country of Bolivia. A powerful drug cartel called Santa Blanca has effectively taken over the nation, forming the first true narco-state. The central government still exists, but turns a blind eye to the cartel's reach and influence. Unfortunately, they also see your small force as an enemy, so both the cartel and the Bolivian army will attack you on sight. They can also be goaded sometimes into attacking each other, but don't normally exist in a state of open warfare, more like an uneasy truce. But there are enough bad guys that, especially at first, you will basically be operating without support behind enemy lines.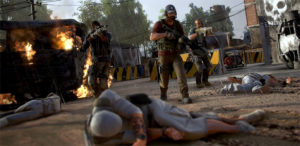 Those of you familiar with Ubisoft games will probably think that Wildlands most resembles the Far Cry series, only without all the killer tigers and elephants running around, and no killer fish in any of the lakes or rivers. The world of Wildlands is very much like a hyper-realistic version of Far Cry 4. You need to conquer outposts to make traveling around the countryside less dangerous, and can take on rebel missions (the one faction that supports you) in order to slowly field more rebel patrols to push back the cartel and the corrupt government forces.
[amazon text=Start your own wild adventure with a copy of Ghost Recon Wildlands from Amazon!&asin=B00ZJEIVB2]
The plot of Wildlands has your team tasked with dismantling the Santa Blanca cartel, and true to its billing, you can do that in any order you choose. Bolivia is partitioned into districts and each one is ruled by a cartel boss. He or she is also associated with one of four logistical groups within the cartel that provides influence, smuggling, security or production. As you chip away at each group, the cartel becomes less effective in that area, and you learn more about the cartel.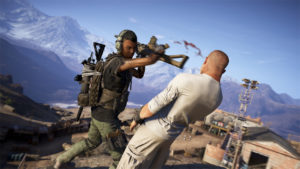 Eventually you will need to capture or assassinate the leader of each province. Doing that will get you more information about related districts and who controls them, eventually revealing the identity of an underboss and then the cartel leader. Nothing is locked though, so if you want to jump in blind to a territory you know nothing about, you are free to do so. I did that a couple of times, once by accident when a helicopter I was piloting took too much ground fire, and it was kind of fun. But you should probably plan your assaults, though how you do that, or why, is up to you.
For me, I decided to attack the cartel's security and production arms first, leaving smuggling alone for the most part. I figured if they had no cocaine being made, then their smuggling operation would be crippled anyway. Each province has a rating showing how difficult it should be based on how many troops are stationed there and what equipment they carry, but there is not too much difference between the difficulty levels, especially later in the game when you have access to the best equipment yourself.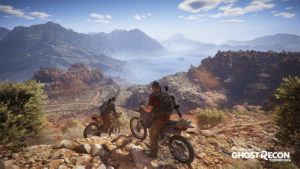 Each province is basically a mini-game. You need to go there and then begin uncovering missions. You can find missions by interrogating locals, either friendly rebels who know the area or cartel lieutenants if you can capture them alive. Your CIA handler will also give you valuable intel over the phone, and sometimes document stashes will also reveal intelligence. You will uncover the location of medals that award skill points, which is how you level up. You will also find out where weapons are located and can add them to your loadout once recovered. There are also rebel missions to help improve their strength and supply runs where you steal cartel goods to distribute back to the people. You will need both points and goods to level up, so doing those side missions are vital to your overall success.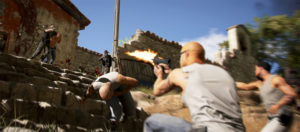 There are also between four and six main missions on average, denoted by yellow folders on the map. These story missions advance the plot of the game, getting you one step closer to finding the location of the boss of that territory. Once you complete them, a final mission will allow you to capture or kill the boss, weakening the cartel and making that zone much safer for the rest of the game. There is actually a lot of story and plot stuffed into those missions, with some of the bosses having interesting history. You might even feel sympathetic towards some of them, or grow to really hate them. Wildlands is not an RPG, so there are no long narratives or moral choices to fret over, but there is a rich plot that is revealed through the investigation phases, if you want to put in the time and effort to uncover it.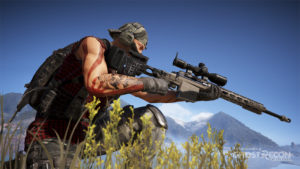 In terms of actual gameplay, Wildlands is a third person shooter. In single player mode, you can customize your ghost with a variety of looks and weapons, though I will talk more about weapons in a bit. The other three ghosts in your squad are capable fighters. You don't have to command them to do anything. They know how to support you and take out the bad guys, and will even come to your aid and rescue you if you take too much damage and go down. There is not much backstory for them, though they do sometimes tell jokes and stories while you travel long distances.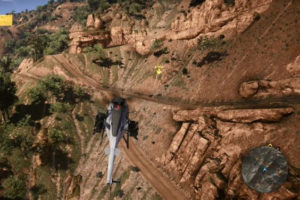 Combat can be both brutal or analytic, loud or stealthy. You have a lot of cool tools at your disposal like a drone that can fly overhead and mark targets to keep things quiet, plus most weapons can be suppressed. You can even assign targets to your ghosts, having them quietly assassinate marked targets on your command. Or you can go in guns blazing, or even mounted on a vehicle or helicopter, mowing down everything in your path. Generally, I started out stealthy and then when loud if something went wrong. Time of day also matters, as the game has realistic day and night cycles, with your ghosts better off in the dark with their night vision, and eventually thermal, goggles.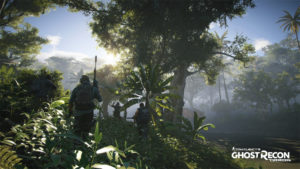 You can commander any vehicle in the game too, from speedboats to station wagons, armored military transports with mounted weapons or farm tractors. Even airplanes and helicopter gunships are at your disposal if you like. The driving mechanics are not perfect, this is no Grand Theft Auto V, but you can get used to them. Flying is even more difficult than driving, but really cuts down travel time over Bolivia's mountainous terrain.
Graphically, there may not be a better-looking game right now. Our fictional Bolivia has every kind of biome you can imagine from deserts to jungle to salt flats. And there are many types of terrain including swimmable bodies of water and tall mountains. There are rural villages, ruins and relatively modern towns and cities, so visually, you will never get bored with the countryside. And it makes a nice backdrop for some epic battles too.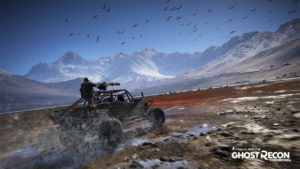 Guns in this game take center stage, and are amazingly detailed and rendered. It's practically gun porn, and I admit gazing at the sleek lines and matched components of each new weapon I uncovered. The guns also vary by performance, so experts should be happy to see that a certain type of gun offers a bit more damage or muzzle velocity over a competitor. You also have an ample amount of customization for your weapons including the ability to add new scopes, barrels, grips, muzzles, triggers, stocks and accessories, plus paint schemes, to each gun. This will allow you to match the game to your style of play. If you want to be a silent sniper, you can. If you would rather use quick SMGs to clear rooms, fine. And if you want to take a light machine gun to tear up miles of countryside, it's all good. Once a new gun is unlocked, it can be customized and picked back up any time you are near a rebel base or a weapons chest.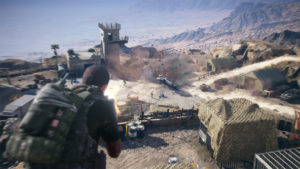 There is a strong multiplayer component too. You can invite up to four people come into your game, with each one taking the slot of an NPC ghost. Wildlands finds friends of yours who are playing, and lets you see their buildouts and invite them to your game. And if you don't know anyone, it will offer to find you active Ghosts that match your style of play. Bring them along, or drop into their games, or simply play single player the whole time. The choice is yours.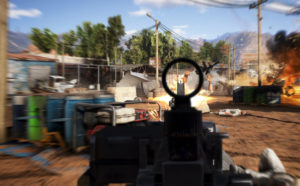 Tom Clancy's Ghost Recon Wildlands is an amazing open-world shooter. Practically a combat sandbox, the game can become whatever you want and lets you approach your goals and objectives in any order that you choose. Never have I experienced so much freedom in a pure wargame. Wildlands offers a wild time, you just have to go out there and find the type of adventure that you crave. If you put a lot into the game, you will get an almost unlimited amount of action back out as you slowly liberate this beautiful countryside in any order you choose, and using whatever tactics suits you best.