Alekhine's Gun is the latest entry into the stealth-adventure-RPG type of genre. It's the spiritual successor to the Death to Spies series, but doesn't seem locked into that comparison at all, able to branch out as its own franchise. In fact, more comparisons will probably be made to the Hitman series than anything else, though to be accurate, it's more like classic Hitman than the modern game. Comparisons might also be made to classic Splinter Cell as well, since carful and patient observation of the game's environments are a key to successfully mastering them.
Alekhine's Gun has a pretty amazing plot filled with Cold War intrigue. You will get caught up in things that defined that generation like the assassination of President Kennedy. For obvious reasons, you won't be able to change history, but can work behind the scenes to lessen the effect of that well-known incident, preventing a third world war in the process.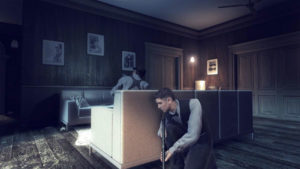 The closest plot movie-wise is probably going to be Man from U.N.C.L.E., where a global threat and the secret resurgence of Nazi leaders following World War II causes the United States and the Soviet Union to work together, at least unofficially. In fact, you play Soviet Agent Alekhine, hence the name of the game. Alekhine is officially a colonel in the Russian Army, but he's really a KGB assassin. In fact, in every mission you end up getting sent on, while there may be some secondary objectives like wiretapping, your main job will be to kill one or more targets.
The gameplay in Alekhine's Gun has you moving around in third-person on some pretty huge open-world type maps. You can complete your objectives in any order you choose, and using any methods you choose. My advice would be to use a stealthy approach as much as possible. Loud combat is an option, but the game highly discourages it by not giving you nearly enough bullets compared to the number of enemies who can swarm you should a major alarm be raised.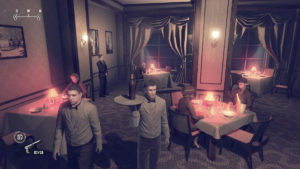 Now, back to those comparisons to Hitman. Those of you who read my reviews know that I am not completely sold yet on the new episodic nature of the Hitman franchise. But my disappointment with that series (which has always been one of my favorites) goes a bit deeper. I kind of think Hitman went off the rails a bit with its emphasis on winning trophies and replaying stages, and at least with Absolution, the linear nature of many of the levels.
Alekhine's Gun by contrast reminds me more of the classic Hitman titles like Silent Assassin, Contracts and Blood Money. In Alekhine's Gun, players are presented with levels that seem completely impossible at first glance, not just because of their sheer size but also because of the number of defenses that are in place to stop you. How are you supposed to infiltrate a Nazi castle teeming with guards, a nightclub run by the Chinese mafia, a biker bar filled with drunk homicidal maniacs or a United States aircraft carrier that is underway at sea? It's only by careful study of those environments that you can start to spot the small holes in their armor.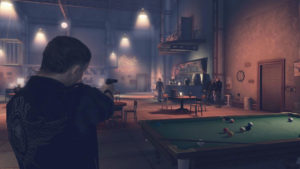 What I love about Alekhine's Gun is that you really do need to take your time and look around in order to be successful, especially at higher difficulty levels where the AI is more suspicious and quicker to react. And I always play with the difficulty set to high. Take the biker bar level I mentioned before. Just getting into the place is tricky, since the armed guards at the door won't let the suit-wearing Alekhine inside. I tried a bunch of different approaches but all seemed to be dead ends that did not get me close to my objective.
Finally, I decided to explore the little "town" around the bar. Much of it was unremarkable, but over at a gas station I saw two bikers having an argument. I could not tell if they were supposed to be friends, brothers or even lovers, but the one decides to go inside to use the bathroom, leaving the other standing out by the pumps alone for about 30 seconds or so. I quickly swooped in and disabled him, picked up his unconscious body and moving him around behind the building. I considered going back and taking out the second guy, but figured since they were fighting that the second biker would probably assume that his friend stormed off.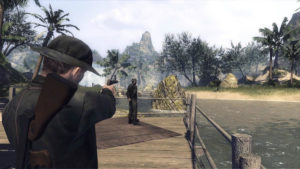 I quickly changed into the biker uniform, but was worried about leaving that guy just lying in the grass behind the gas station. Even at night, he might be seen. I didn't know the patrol patterns in that part of town and didn't want the gas station owner to take out the trash and find him. A little ways off there was a closed supermarket. So I picked the lock on the door and dragged my friend inside. He got to take a nice nap on top of the melons, and I figured I would be fine till morning. That was the first of many challenges in that level, which became a memorable experience for me.
Become agent Alekhine with a copy from Amazon
Combat in Alekhine's Gun is normally pretty quick and brutal. You earn points based on how well you complete your objectives which can be used to upgrade and purchase new guns for your arsenal, but I almost never bothered. My weapon of choice was my combat knife, which could dispatch most foes quietly in just a couple seconds by just getting close and hitting the combat key. You can also buy things like poison and ether bottles for even more stealthy knockouts and kills, which gives you more options. Still, I think about 90 percent of my kills in the game were with the knife, though I sometimes used a silenced pistol if I needed just a touch more range, like hitting someone through an open window.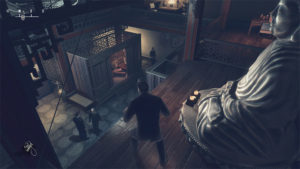 Graphically, the game looks pretty good in most places on the PC. I have heard complaints about some rendering problems on the PlayStation 4 and Xbox One, but didn't see any of that on the PC with all the settings at maximum detail. This isn't one of those games where everything is photorealistic or anything like that, but everything looks good and I think they purposely use muted colors to kind of give the illusion of the 1960s, like we are looking back in time. For me, it went along with the classic style of gameplay so I enjoyed it.
The sound is probably the worst part of the game, especially the voice acting. All the environmental sounds and even things like the radio stations in the game are fine. But most of the voices in the cut scenes seem phoned in, literally in some cases as you can hear audible background noise when some characters speak. I'm not sure if the original voices were in Russian and the people doing the translations were not actors or what. There are so many great voice actors working in the video game industry today that its really unfortunate to have the voices here be so unpolished and not professionally done. It doesn't detract from the actual gameplay, but does a poor job of showcasing what is really an amazingly full plot of betrayal and surprises.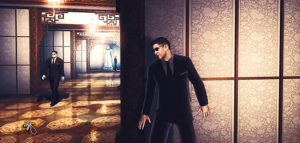 In many ways Alekhine's Gun is the stealth action title that has been missing from the modern gaming scene for a long time. It may not be for everyone, but those of you who love watching a guard's pattern until you know it better than them, or seeing how people react to a vegetable delivery for clues about how to breach seemingly impregnable security will find a lot to love here. Alekhine's Gun is a thinking man's shooter, and like the stealth classics of old, the emphasis is on the thinking part. If that type of gameplay appeals to you, then give Alekhine's Gun a shot.