Hey all I'm back with a review of the sequel of a rather infamous game. It's Gal Gun 2!
Plot Synopsis: You are just some regular guy in High School when you notice a weird app has been installed on your phone without your knowledge. That's when stuff starts to get really weird. You get a pair of goggles and are told to put them on via the app and suddenly you see a girl in front of you. She says you've been chosen to combat an odd outbreak in the female population of your school by shooting them with a device called the "pheromone gun."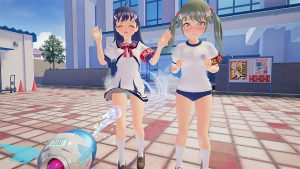 Plot: The plot of this game is ridiculous, so don't expect any real story here. This is a game that is purely made for fanservice. You will be helping swarms of girls escape their demon possession by using your Pheromone Shot gadget for euphoric exorcisms.
Load up your pheromone gun and grab a copy of Gal Gun 2 from Amazon!
Gameplay: The gameplay is an on the rails shooter that isn't all that interesting. It features you shooting girls in various places with the "Pheromone Shot gadget" with a single click of a button, not even a shoulder trigger like the R2 button.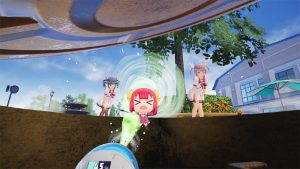 One could argue that Gal Gun 2 at it's worst is simply an excuse to run around a school filled with young girls in skimpy costumes and shoot them with a phallic-looking tool, sending them into euphoric bliss. Another gadget that came about in the sequel, and which is included in the Steam version of the game on PC, is called the Demon Sweeper gadget. Instead of blowing out like the Pheromone Shot, it sucks in, supposedly scooping up the demon menace from "infected" girls, and almost always a good portion of their clothes in the process. Quick peeks at underwear are almost always triggered.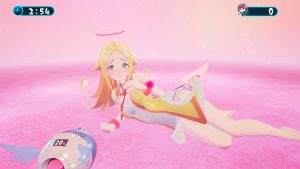 While I won't disparage the intended audience, I will say that it's a very narrow audience, and most people probably won't enjoy this game. Most actually will be made very uncomfortable by the very premise of it. In fact, to make that point, I will point out one particular feature of the game, which is an "Oh crap, my mother just walked into the room" button. Yes, you read that right. That feature has its own dedicated button.
Art: The art is okay, but it's nothing spectacular either. It's okay, and while done in a cel-shaded style made to resemble Anime, it's nothing revolutionary either.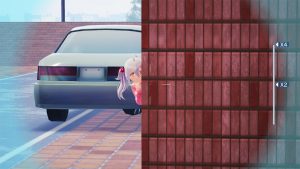 Music: The music is just as ridiculous as the gameplay, which is to say it fits the oddball nature of this game.
Overall: Look, if you think that blowing (or sucking) air up the skirts of young girls is campy and fun, then by all means have fun with Gal Gun 2. But the gameplay is pretty lacking, and most people who are not outright offended by the presence of the game will probably be disappointed by the shallowness of Gal Gun 2 which is basically just a rail shooter with a bit of a pretty face.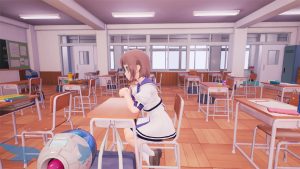 Gal Gun 2 might be good for those who like: rail shooters, a ridiculous premise, bland gameplay, underwear shots, campy gameplay, and – I guess – peaking up the skirts of schoolgirls.
Not for those who don't like: Any of the above. And we really mean that this time.
Gal Gun 2 earns 1.5 GiN Gems.