Dragon Age: Inquisition builds upon many of the traditions that made the series so beloved by role-players over the years, while also setting its own path and creating a new game that can – and often does – stand apart in many ways from everything that came before. Veteran players might even question whether or not they are actually playing a Dragon Age game, though they should love it all the same.
As with other Dragon Age titles, players begin with a first level character of their choice, be it a rogue, mage or warrior. Playable races include humans, elves, dwarfs and now qunari. There is a tiny bit of back story that explains why each of these diverse player choices would be at the same place at the same time, so no unique beginnings for each character, though given all that has been added to the game, it will hardly be missed.
Dragon Age: Inquisition begins with a conclave that is set to end the somewhat overused war between the mages and templars that is tearing up the realm. I really wasn't looking forward to another mage verses templar storyline. Thankfully, the entire conclave is blown to bits by something akin to a nuclear explosion at the same time the sky is ripped open and demons come flying out of the woodwork. Somehow your character is the lone survivor, supposedly saved (in a fade-based cutscene) by Andraste herself. Whatever the truth of the matter, your character emerges with a strange green rune on their hand which it the only thing that can close the many rifts opening up around the world spewing demons. So even if people don't really like you, they kind of have no choice but to help you out and follow your lead.
[amazon text=Buy Dragon Age: Inquisition from Amazon now!&asin=B00JUFT1F6]
As the so-called Herald of Andraste, you eventually go on to lead the Inquisition of the game's title. Think of the Inquisition as sort of like the Gray Wardens in a way, but it's a much larger organization designed to restore order to the world and fight all forms of evil, not just darkspawn. Given that many of the other organizations in the game's world have been weakened or nearly destroyed by recent events, it really makes the Inquisition all that much more important, thus giving players the chance to shape the future like no other title in the series.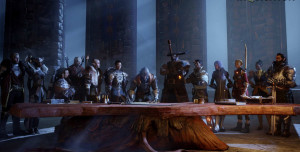 In fact, Dragon Age: Inquisition is set up differently than its predecessors, or from most role-playing games for that matter. With most games, the hero roams the world and the story kind of follows them along. In Inquisition, most of your adventures are planned out in the war room, overlooking a giant table that contains all the lands that your armies, spies and diplomats are trying to protect. On that map are all the major and minor concerns that you, as the leader of the Inquisition, need to deal with. They can be anything from a personal request from a friend to stopping a rival army's incursion into your territory to investigating reports of rampaging demons to stopping a plot to assassinate the empress.
You have a variety of tools at your disposal in dealing with these many threats. The three you will use most are your diplomats, spies and army. Each is commanded by one of your trusted advisors and each can only work on one problem at a time. So if you get a report that bandits are harassing travelers along a road, you could, for example, have your diplomat pressure the local nobles to make the road safer, have your spies and scouts track down and assassinate the bandit leader or send in your army to comb the woods for the villains. Each operation takes a certain amount of time, from just a few minutes to several hours, and you will get different results depending on how you tackle the problem and what forces you deploy. And you will have to wait for the operation to complete before you regain whoever you sent out on the mission.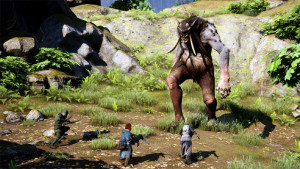 Major missions also require a certain level of power, which is a collectable resource of the inquisition that represents your overall influence in the world. You gain power by doing things in the game like closing rifts, saving people and generally completing all types of different quests. Most story missions require huge amounts of power to undertake, which also ensures that you can't move into areas that your characters are not powerful enough to handle. To gain power you have to adventure, and power and experience are earned in more or less equal measure.
You can also take to the field yourself, and this is where Inquisition is most like other RPGs, and most like its predecessors. You have your main character that you have created, and then a party of up to three other people who you have recruited to adventure with you. You level both your own character and all your followers according to a tech tree. A few characters show up with a few skills already set, but you can purchase an amulet that resets them all so that you can craft the perfect group according to your fighting style. Each archetype also has some diversity, so your warrior can crush foes with a two handed weapon, protect themselves and others with a sword and shield or invest in a tactical tree that boosts the stats and morale of your group. And any combination you can come with is fair game.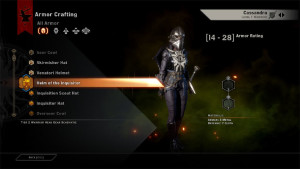 In addition to equipping your party's skill layout, you also have to make sure they have the best armor and weapons available. These can be found while you adventure, purchased in stores along the way, or even crafted. Crafting is actually a huge deal in Inquisition. It requires that you pick up lots of materials of three different types: metals, cloth and leather, which can be found by looting dead people and creatures, or clustered naturally in pockets around the world. You also need to find the schematics to craft armor, and higher quality materials lead to better items. Some items also have slots that can add extra protection or damage to a crafted piece. Eventually runes can also be slotted which do things like make swords flame or provide extra damage against certain types of creatures. Those who love crafting will find a lot to do here. Those that don't can largely ignore it, but crafted arms and armor can give a real edge in combat.
Most of the game will be spent in the largely open areas where the traditional action RPG elements take place. As with previous games, you can pause the action and intricately plan out your moves, giving precise orders to each of your team. However, although I did that with almost every fight in previous Dragon Age games, I almost never did in Inquisition. Combat flows very smoothly and works well with the console controls. Especially with a ranged character like a mage, you just look at who you want to target and hold down the "constant attack" key to keep tossing in magic. Other keys can launch your more devastating spells so long as you have enough mana to support them. You can actively control anyone in your group, while the others will fight intelligently without your input. In fact, my team rarely did anything stupid so I rarely messed with them in combat. You can also program them a bit, making them prefer certain abilities over others and designating when to do things like quaff a healing potion. It makes the whole process more or less fire and forget for most battles, though you might have to control the boss fights a bit more than normal, as is to be expected.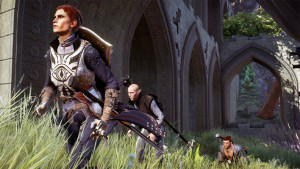 Almost every one of the adventure areas you unlock from the main map are huge and filled with secrets. In fact, each one could almost be a game all to itself. Then there are the story missions that you unlock which are more linear in nature, but every bit as exciting and quite large on their own. Finally, you can always head back to Skyhold –which will eventually become your main base of operations – to bum around your fortress, engage in political intrigue with your followers, craft more gear, pick out new patterns for the drapes or your throne, spend money improving the defenses, or even sit in judgment at the trials of various criminals the inquisition has captured.
Dragon Age Inquisition is gorgeous with unique environments and many weather-related effects in all areas. It truly pushes the bounds of what even the next generation consoles can do. On the PC, the ultra settings add even more realism if your machine can handle it.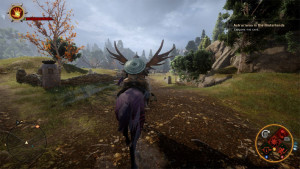 The voice acting, as with previous games, is some of the best in the game industry. And of course there is a deep role-playing underpinning here where each and every character has a rich back-story if you want to get to know them. Many characters will also have romantic options too (for both gay and straight players), though you have to put in a fair amount of work to get most characters to like you in that way. At times the political intrigue and surprises in Inquisition reminded me of an episode of Game of Thrones, other than the fact that not everyone dies at every turn.
The single player campaign goes on for a very long time. Doing everything, and there is a lot to do, could run you easily into 50 hours of gameplay. For me it was much longer. There is also a robust online component. While that is outside the scope of this review, I played a few missions online and they were pretty fun. You can earn experience and improve your online character fairly quickly, and the combat seemed fair and balanced.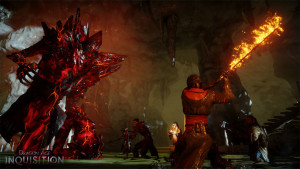 Dragon Age: Inquisition is a breath of fresh air in a somewhat stagnant RPG genre. It keeps enough of its roots and deep role-playing to maintain the interest of old school gamers, while also adding in the action elements that are so popular these days. It's not possible to be all things to all people, but for role-players, Dragon Age: Inquisition comes pretty darn close.