Gamers looking to relive old thrills, or younger players wondering what all the fuss was about, have had a good run lately. It seems like remaking classic games is extremely popular. Those who enjoy those kinds of experiences can come off the high of Diablo II: Resurrected and slide right into Grand Theft Auto: The Trilogy – The Definitive Edition.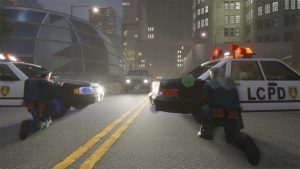 In the GTA Trilogy, Rockstar Games has given us three remade classics, Grand Theft Auto III, Grand Theft Auto Vice City and Grand Theft Auto San Andreas. And although there is no new content, all of the classic open world-centered stories are remade in HD. The Definitive Edition is available digitally for the PlayStation 4 and 5, the Xbox Series X|S and Xbox One, the Nintendo Switch and for the PC directly through the Rockstar Games Launcher. Physical editions for consoles will be available later this week, and the games are scheduled to land on the iOS and Android mobile platforms in the first half of 2022.
In addition to just bumping up the graphics, there are some nice gameplay enhancements that are evident in later games, now filtered down into the classics. For example, there is now a weapon wheel available on all three games, something that would have made playing the older titles a little easier back in the day. And in addition to those improvements, there are some platform-specific upgrades, like on the Switch, players can now enjoy gyro aiming and touch screen zooming. The PlayStation 5 and Xbox Series X systems offer 4K resolution at 60fps, and the PC version includes NVIDIA DLSS support.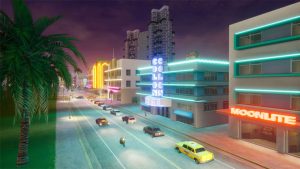 The gameplay improvements are really welcome, especially for Grand Theft Auto III, which was almost a proof-of-concept title for all those that came after it. But really, the gameplay was pretty good in all three of those games, which is why they are still so popular, and a big reason why modern titles that built on them, like Grand Theft Auto V, and hopefully one day GTA 6, are so popular right out of the gate. In fact, a couple years ago I downloaded the original Vice City (my admittedly favorite title of the bunch) to play on my PlayStation 3 without any enhancements and it was still a lot of fun, though the low-resolution graphics did annoy me a bit. So, make no mistake, the big draw here is the graphical upgrade. The Definitive Edition has been adapted to modern platforms by Grove Street Games (the name is an homage to the neighborhood where CJ lives in San Andreas) using the Unreal Engine to make these classics more vibrant than ever.
So, what I thought I would do is divide this review up into my thoughts on each of the three games in the definitive trilogy, while giving an overall score for the complete package. All are fun to play and all look better than ever. I jumped around with them a lot, not knowing which one I should enjoy next, though I originally tried to play them in order.
Grand Theft Auto III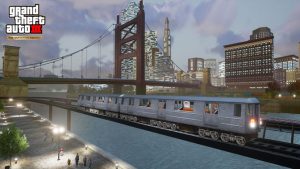 This is the title that started things in a modern sense. It was the first GTA title to feature a 3D, open world map. It's also the game that got the least amount of upgrades in terms of graphical enhancements, probably because Grove Street had the least to work with from the start. Even with the enhancements, it still looks like an older game. It's hard to believe that it was state of the art at the time. The enhanced version does not look terrible, but it's not really fun to look at.
As I mentioned before, GTA III was almost a proof-of-concept game for the later series. So, it technically had most everything the later titles do, but it's not strung together in terms of the story. The map instead seems more like a platform for launching missions. You just drive somewhere and then get a mission, which is often timed in some way and feels more like a mini-game, like trying to pick up and deliver prostitutes to a police party before the booze runs out.
It's still fun to play, and it's nice to see the primitive version of Liberty City (which the series would eventually return to in Grand Theft Auto IV) but a mute protagonist and missions that don't really string together into a unified story make this the weakest of the three in the trilogy. I still enjoyed it, but your milage will vary. I played this one for as long as I could before jumping into the other two games.
Grand Theft Auto Vice City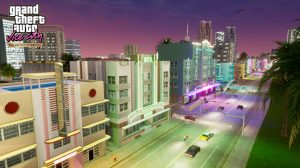 Here is where the series really started to shine. Now, I am admittedly bias because this is my favorite game in the series, but moving from GTA III to Vice City is like night and day for both the original titles and the enhanced versions. Graphically, Vice City starts to look more like a real place, in this case a neon-drenched city that is supposed to be Miami. The enhancements here look amazing. Yes, this is not GTA V by any stretch, but you can easily forget that while you play.
And the story starts to ramp up as well, buoyed by a host of Hollywood actors that could easily grace any feature film. The main character, Tommy Vercetti, is voiced by Ray Liotta who brings his gangster bravado to the role in a huge way. His sidekick, Lance Vance, is played by Phillip Michael Thomas who might as well be playing Tubbs from Miami Vice, which is perfect for this game. And the stars just keep coming, with nearly every role played by someone famous who knows how to bring life to their characters. The cast includes Burt Reynolds, Danny Trejo, Gary Busey, William Fichtner, Dennis Hopper, Jenna Jameson, Tom Sizemore and others. Missions flow together more logically and work to tell the tale of betrayal and revenge that is at the heart of this virtual gangster flick in the form of an amazing video game.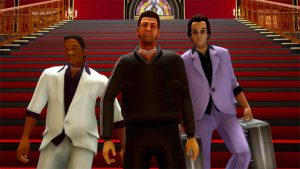 The soundtrack for Vice City was also extremely impressive. In fact, I don't think any GTA game has ever had a more impressive track list, even the modern games. Vice City was set in the 1980's and the music reflects this. We get songs from David Lee Roth, Tears for Fears, Nena (99 Luft Balloons – one of my favorite songs of all time), Romeo Void, Corey Hart, Toto, Jan Hammer (who of course does Miami Vice music), Mr. Mister, Judas Priest, REO Speedwagon, Night Ranger, Luther Vandross, Hall and Oates, Electric Light Orchestra, Talk Talk, Bryan Adams, Go West, Glenn Frey (doing another Miami Vice song), Laura Branigan, INXS, Herbie Hancock, Kurtis Blow, Rick James, The Whispers, Mary Jane Girls, Irakere and a lot more. The soundtrack is so good, you will want to find a vehicle with great speakers (the burrito gang van has the best I've found), park somewhere nice (and safe) and just sit back and enjoy the tunes.
Grand Theft Auto San Andreas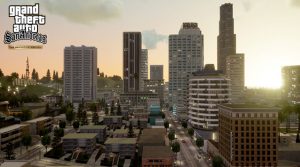 San Andreas is the direct precursor to Grand Theft Auto V, and is the first game in the trilogy that could really pass for a modern title with the new enhancements. Like Vice City, San Andreas has a really deep story that in no small way mirrors the Boyz n the Hood movie from 1991. In fact, San Andreas has arguably the most realistic story of the group and features main character Carl "CJ" Johnson, played by Young Maylay, trying to return home again and deal with the gangland problems of San Andreas, his fractured family, crooked cops and the influx of drugs into his old neighborhood. It's not so much a redemption story, but more one of survival.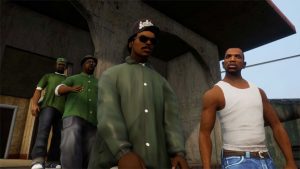 San Andreas is also the first title to really lean into adding clothing items to your character, something that is a staple of the later games. It even has low, middle and high-end stores offering different items. And it was the first to allow you to customize your hair and beard, with new styles unlocking from different barbers and by earning enough money to buy them. This feature would become an obsession for players in later games, and San Andreas was the first to hint at how it could work.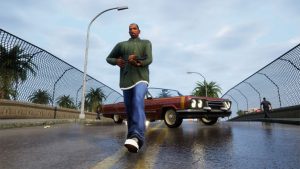 The gameplay of San Andreas is very much like the modern games, with quirky characters and missions that make sense in the larger context of the story. It's not quite a GTA V level masterpiece, but pretty darn close, and amazing for the time. There are fewer well-known actors as part of the cast (though listening to Samuel L. Jackson play crooked Officer Tenpenny is a huge treat) and also a much less impressive soundtrack compared with Vice City. However, San Andreas shines in other areas, offering a heartfelt story that is just as powerful today as when it was first released.
A Treasured Trilogy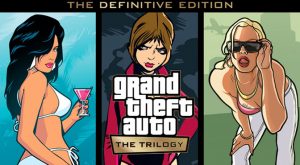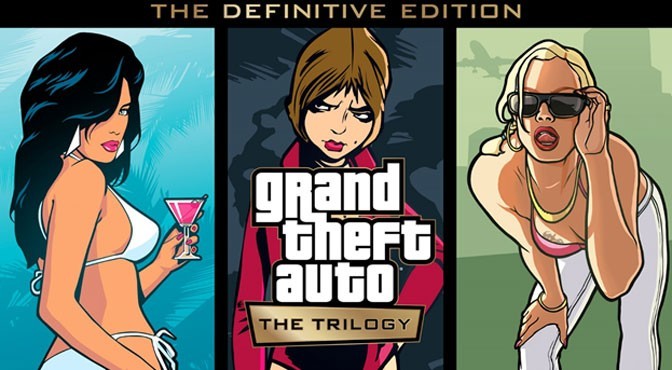 Taken as a whole, Grand Theft Auto: The Trilogy – The Definitive Edition is an astounding success. We get to play all of the classic games with a streamlined interface and nearly modern graphics. And you can skip around between all three, which is nice because each really does have a different look and feel. So, depending on your mood you can kick it with Ryder and Big Smoke in San Andreas, cruise the neon-drenched streets of Vice City, or see where it all began in the pixelated gangster haven that was Liberty City back in the day.
The definitive edition makes the old GTA games new again, and replaying them makes it easy to see why they were so successful, and why the series remains so beloved even today.