Hey all I'm back with the latest entry in the Demon Accords. It's Demon Divine, Demon Accords Book 14, by John Conroe!
Plot: This was a thrilling ride and probably one of my most favorite entries in the series thus far. It's got action, intrigue and humor in huge amounts and progresses the story in ways I never thought were possible.
Editor's Note: Be sure to check out some of our other reviews of the Demon Accords series from author John Conroe in both paperback format and as an audiobook.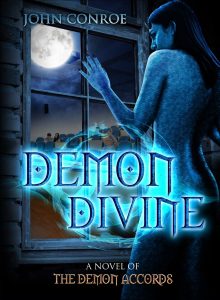 Considering the fact that I listened to it in an almost single continuous sitting over the course of just one day should tell you how gripping I found the plot. Not many stories can do that for me, and while that number is in the hundreds please do note I've experienced stories in various mediums in what my best estimations is close to nearly a hundred thousand stories and that may be conservative.
Characters: There aren't really any new noteworthy characters, except one who I will not name as its super spoilerific. That being said the existing cast is so diverse and nuanced that it's completely acceptable that we didn't really meet any newcomers and the additional fleshing out of the various side characters was very enlightening and entertaining as well.
[amazon asin=1793180016&text=Pick up a copy of the deliciously good Demon Devine from Amazon!]
Overall: The Demon Accords has another amazing entry in Demon Divine and I now have to wait for the next entry with even more anticipation than I had before this day.