Hey all I'm back with the latest in the Demon Accords just as the next main installment's audiobook version launches today, the 23rd of October. It's Black Frost, Book 4.5 of the Demon Accords by John Conroe!
Plot Synopsis: What would you do to protect a loved one? Would you kill? Widower Ian Moore will do almost anything to protect his daughter from a threat that comes straight out of our darkest fairytales. If he has his way he'll prove that Ashley was the absolutely worst target they could have picked. In fact, you might want to take notes, 'cause your family may be next.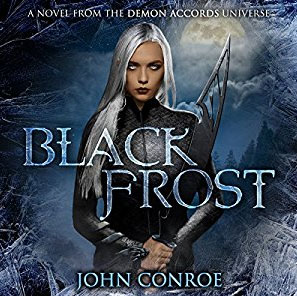 Plot: This entry takes place during the events of Duel Nature so don't expect the entire world to know about the supernatural. This is before the Battle of Washington in Book 6 (7 counting Executable). This is a really short entry, and if you've been listening to the rest of the series like I have, you know the outcome. That being said I was still really happy to listen to this story as it'll tie into Winterfall the Demon Accords book that is being released on Audiobook today.
Give those supporting characters some love with a copy of Black Frost from Amazon!
Characters: This is a rare book in that Chris isn't our main PoV, in fact Chris doesn't even factor into this story. Declan makes a comment in College Arcane that describes Ian Moore pretty well, the most badass normal human he's ever met. Ashley and Neeve are the two other main characters, but Ian really is the star of this book.
Overall: An excellent addition to the main Demon Accords series, it introduces some major side characters.