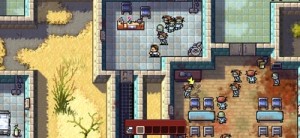 Games industry veteran and independent games label Team17 is excited to announce that they will be unleashing The Escapists The Walking Dead worldwide on Xbox One and PC on September 30th.
The Escapists The Walking Dead merges the gameplay and aesthetics of the smash-hit, indie game The Escapists with the universe and characters of the worldwide phenomenon that is The Walking Dead. Team17, working in close collaboration with Skybound Entertainment, have taken the very best of both worlds, featuring panels, dialogue and the story of the award-winning comic series recreated in the charming 8-bit pixel art stylings of The Escapists.
Daniel Murray, President of Skybound Interactive said "The Escapists The Walking Dead is a creative monsterpiece. We believe fans of great games in general will be delighted to play this unique interpretation of Robert's graphic novel.   Team17 shares our belief in empowering independent creators.   This game embodies that spirit to a tee."
In The Escapists The Walking Dead players will take on the role of iconic protagonist Rick Grimes, who must lead and protect a band of survivors featuring many of the original comic book cast. Rick and the survivors must secure, survive and escape a number of dangerous environments which faithfully follows the narrative timeline of the hit comic.
Team17's Marketing and Commercial Director added, "After the huge success of the original The Escapists, we really wanted to expand the brand and take it in different directions. Teaming up with Skybound Entertainment is an amazing start to building a strong indie gaming franchise and we are incredibly pleased to be part of their growing The Walking Dead brand".