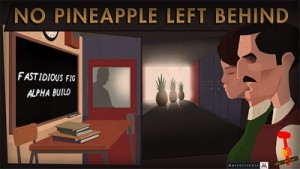 Listen up, because this will most certainly be on the test. No Pineapple Left Behind, the strategic satire of modern education from Subaltern Games, has entered open alpha and is available now as a free download.
No Pineapple Left Behind puts you in charge of the school. Will you work to retain the best teachers, or cut costs with a burned-out, underpaid staff? Will you help the underachievers reach their potential, or lie about their grades? Most importantly, will you deal with the complications of children, or simply sweep all their troubles under the rug by turning them into orderly little pineapples?
Download the No Pineapple Left Behind alpha and see if you have what it takes to run the school.