9 May 2016 – Plarium, the Israeli gaming developer which has a global registered player base of 250 million players has signed one of Hollywood's hottest stars in Megan Fox. Stormfall: Rise of Balur is the latest smash-hit sensation from Plarium, and it features Fox in the leading lady role. This browser-based strategy game is rapidly gaining traction with players the world over. Rise of Balur was launched in January of 2015, and it already boasts 1.8 million daily raids and an astonishing 5.5 million gaming hours per month. Stormfall: Rise of Balur is the sequel to the hugely popular Stormfall: Age of War.
When Kate Upton's star power helped Machine Zone's Game of War: Fire Age become a top-rated mobile gaming sensation, Plarium didn't miss a beat. With Megan Fox on board, the heroine of such shows as Transformers and Teenage Mutant Ninja Turtles will be cast as the Captain of the High Council Guard – Amelia Delthanis. Plarium negotiated a deal with Fox whereby she is likely to star in live commercials too. With Fox leading the way in Stormfall: Rise of Balur, MMORPG fans can expect a fully-voiced single-player campaign to be available.
VP of marketing at Plarium, Gabi Shalel was delighted that Megan Fox is on board with Stormfall: Rise of Balur, 'Megan Fox is a terrific actress and one of the hottest Hollywood stars. We are absolutely thrilled to have her on board with Stormfall: Rise of Balur. She is a great asset to our brand and we look forward to her high-impact appeal with MMO players online.'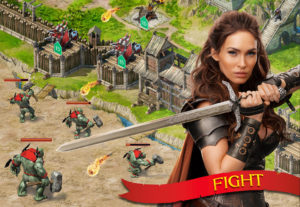 Fans of this latest Plarium blockbuster will be able to enjoy it on Android-powered smartphones and tablets as well as iOS smartphones and tablets. Fox was introduced to Stormfall through her teenage nephews and she had no hesitation in inking the deal to portray Amelia. The character that Fox will be playing is a no-nonsense powerhouse, with a sharp sense of humor. Fox is no stranger to video games herself, having been a big fan of Halo and Super Nintendo. For Fox, she's happy to let her career take her wherever it must, even if mobile MMO gaming features as her new fun zone.
About Plarium:
Founded in 2009, Plarium Global Ltd. is dedicated to creating the best mobile and social experience for hardcore gamers worldwide. With over 250 million registered users, we're proud to be consistently ranked among Facebook's top hardcore game developers. Plarium employs more than 1000 individuals and is headquartered in Israel with five offices and development studios across Europe and the United States. Our hardcore social and mobile games are available on all major social networks, including Facebook, Vkontakte, Odnoklassniki and Mail.ru, as well as web browsers, iOS and Android.