Harebrained Schemes has announced that its Kickstarter-funded game, Golem Arcana, will be available at retail stores nationwide in August 13, 2014. Golem Arcana is a digitally-enhanced miniatures board game that combines a smartphone or tablet with strategic tabletop gameplay to deliver a completely engaging and unprecedented experience.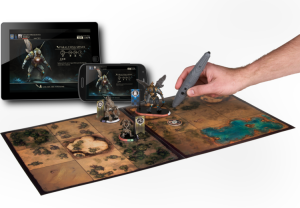 Golem Arcana merges the social fun and tactical depth of a rich tabletop experience with the ever-evolving dynamics of digital gaming. Players use a Bluetooth-powered stylus and a free mobile app on an Android or iOS tablet or smartphone to interact with the figures, game board and cards. Players assemble their armies of pre-painted miniatures and digital characters and launch attacks using the stylus and the app. Just tap a game piece or the mobile device with the stylus to instantly get information and choose the best course of action.
"Golem Arcana is allowing us to share our love for tabletop miniatures games with a much broader audience," said Jordan Weisman, founder of Harebrained Schemes and executive producer of Golem Arcana. "We embraced all of the advancements in digital gaming technology and married them with the visual and social experience of tabletop gaming. That makes Golem Arcana accessible to all types of players — whether you've been in tabletop tournaments for years or have never played this type of game before in your life. Players can focus on making good strategic decisions and having fun and let the app do the rest."
An important component to the game, the intuitive mobile app doesn't just make every game quick and exciting, it also instructs players, performs record-keeping, maintains gameplay history and details, and alerts players to in-store tournaments and Organized Play events in their area. The automatic record-keeping system allows players to accurately track their victories and be digitally rewarded for participating and winning, as every game registered in the system affects the development of future expansions and scenarios
"There is an unlimited number of ways to play Golem Arcana," added Weisman. "The living-world environment extends the life of the game with new storylines, miniatures and digital characters, and players can try different army combinations each time they play."
Pricing & Availability
Coming to retail & app stores beginning August 13th, the base set of Golem Arcana is priced at SRP $79.99 and includes six modular terrain tiles, a TDI stylus, two ten-sided dice, two control cards, a quick-start instruction and lore book, and six pre-painted Golems. The free mobile app comes pre-loaded with 18 digital characters. Expansion sets with additional figures and game boards will be available at launch.