The Old West is an interesting theme that, for some reason or another, not a lot of video games seem to utilize as a setting. There's always something a little special about the times of the gold rush era- where men and women would take it upon themselves to take what they feel is rightfully theirs. Hard West isn't exactly a faithful recreation of the Western setting, though, because it mixes in a stunning variety of sci-fi and supernatural elements. This means that when you make a deal with the devil, you may be doing so in the most literal sense possible.
Hard West is an isometric, turn-based strategy game- very reminiscent of XCOM or Frozen Synapse. The story of the game kicks off with an all too familiar Western trope: A family is accosted by bandits, the wife is captured, and the men sold into slavery. The men, a father and son, manage to escape their captors and set out to rescue the mother only to fail in doing so. Once the prologue mission is completed, players are able to continue the story of the father and son as they try their hand at gold prospecting in order to make a living for themselves, while dealing with bandits, Death itself, and supernatural amulets that bear a strange curse.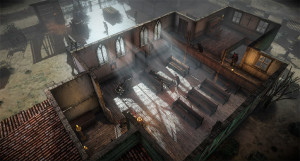 Mind you, there are several story scenarios of Hard West, and the above is merely a mission's worth of the very first. Each scenario is related to the others in a larger way which culminates into some very interesting, albeit dark and violent, supernatural themes. Death, for example, is the narrator at the beginning of the game, but is quick to become a driving force in the overall plot, despite seeming relatively innocuous, at first. Completing all of the campaign scenarios could run you about 20-25 hours, which is a little on the short side, but par for the course in its price range of $20.
Much of the story of Hard West is told through text delivered on the overworld map. Outside of combat missions, you control a cursor that can be navigated to specific points with a variety of options- you can visit mines, saloons and towns in order to mine gold, buy or trade items, or quell an uprising in the town. Oftentimes, while on the world map, you'll be presented with choices: Go deeper into the mine, leave an area, pay for information, rescue someone, etc., and much of the time these choices have bonuses like extra money, temporary buffs or debuffs, or optional characters that can join your party. To explain how buffs and debuffs work in the game, exploring in a mine too deep can lead to you getting a head injury that hurts your aim during your next bout of combat, for example.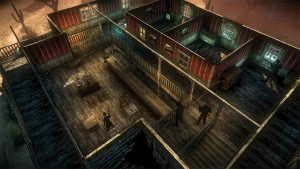 The overworld map is well and good, as digging in mines is one of the best ways to earn gold early game, but the turn-based combat is the meat-and-potatoes of the game. At frequent intervals throughout your time in Hard West, you'll encounter enemies that you will face with your team of four intrepid survivors. You maneuver your characters along a grid, hide behind cover, and rain lead upon your enemies in order to survive such conflicts.
Every bullet fired in Hard West has a percentage chance to hit, cleanly shown to the player while selecting targets. Targets in cover are substantially harder to successfully damage, as even if the round hits, the target takes reduced damage. Interestingly, bullets can travel through a variety of objects, so hiding your character around the opposite side of a tent may save you in other video games, but the bullets in Hard West will easily penetrate that canvas, and conversely, your character's spine.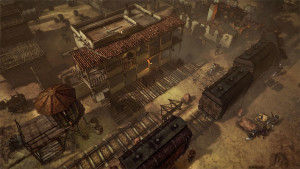 Standing in half or full cover drastically reduces the damage your party takes as well as your chances of being shot. Enemies who are in full cover, oftentimes, will need to be flanked so that they lose all benefits of cover because they're not protected from the angle in which you're shooting. The luck system also plays an important part in Hard West, because as your luck points increase, your chance to be hit by enemy gunfire decreases. Every single time a shot misses you, however, your luck will be reduced until, eventually, you get hit, though sustaining damage does increase your luck.
All of the characters in Hard West can be customized: There's a plethora of firearms, items, charms and equipment, and even playing cards to equip your characters with for upcoming battles. Weapons each have their own effective ranges, as a shotgun's range may be short, a pistol's medium, and a rifle could be a long range weapon. Firearms also carry different numbers of bullets (forcing you to spend a turn reloading at inopportune moments should the weapon only carry a shot or two), varying damage capabilities, and more. Each of your characters can carry two weapons, so having access to a variety of range options is always quite valuable.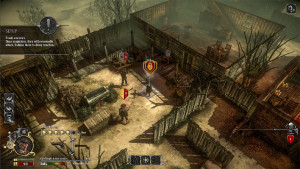 Aside from just weapons, you can equip your characters with two items, which can be basic healing items, or items that grand buffs such as improved aim, more movement, and more. There is also a miscellaneous slot for clothing or talismans that may confer additional, powerful benefits, as well. Each playable character can be equipped with a hand of playing cards, which can grant activated abilities or powerful passive bonuses- assembling card hands, like flushes and straights, can make your characters even more powerful.
The characters at your command can even learn a variety of skills that can turn the tide of battle: You can spend your luck into special actions such as controlling bullet ricochets to strike enemies you normally couldn't, or cannibalize your enemies for health. There's a variety of combinations to play around with, so the customization factor is quite high. Characters themselves, however, are given the XCOM or Fire Emblem treatment in Hard West, as if they die, they're gone for good. Story important characters that die in Ironman mode, for example, will end the game on the spot in true roguelike fashion, prompting you to begin your playthrough from the beginning in earnest.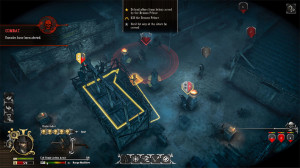 There are a variety of different options players can select when beginning a new game, if the mention of Ironman mode above was any indicator. You can choose from three different difficulty settings which are the common easy, normal, and hard; this allows you to tailor how hard the game is to your liking. Additionally, you can choose to make the game even harder with Ironman mode, or from the Combat Injuries option that can cause complications for your characters due to damage they sustain in a fight. This would normally sound like an option only for masochists, but combat injuries turn into scars after a set number of encounters and those scars can then grant a variety of permanent buffs to the afflicted character. Having more options is always nice, especially when those options give a risk vs reward benefit.
Positioning is extremely important in Hard West, because if you move one of your characters through an enemy's vision cone, they will fire at you even though it's not their turn – this is very much like the overwatch ability featured in XCOM: Enemy Unknown and Space Hulk: Ascension. This overwatch ability, strangely, is missing from the characters that the player controls, as an enemy you were unaware of can walk around a corner right in front of one of your characters and fire, point-blank, with a shotgun (which typically kills your character). It's not exactly anything game breaking, but it can be frustrating to find out such a mechanic applies one-sidedly only after you've been forced to restart a mission because a crucial character rode the death train.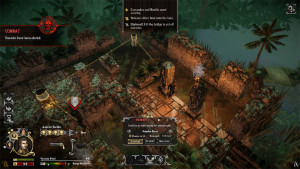 Graphically, Hard West absolutely grasps the Western aesthetic, with superb building designs that look straight out of Gunsmoke, and lighting that really captures and enhances the mood- even if you're in front of a pagan cultist's burning pentagram in the middle of a wasteland. The overworld map leans a bit toward the drab and boring side, however, due to a stark lack of detail compared to the combat environments, though that's more nit-picking than anything else. The music, especially during encounters, can really enhance the Western feel, and at times during the most eerie and unsettling events, the music never fails to match the setting.
Those who enjoy playing with controllers will definitely enjoy the fact that Hard West does have controller support, though it is a bit strange at times. Certain missions that require you interact with objects (such as picking up a key and then locking a door with it) may not have the "interact" icon populate onscreen at all, for some reason, though the action will still take place if the player moves the character to the appropriate space using the controller. Mind you, it's very difficult to know what the appropriate space to stand on to lock a door is when the game isn't telling you which of the 10 doors on the map you should lock, but strangely enough, switching back to the mouse had the silver, "Go here" icons pop up immediately. So, players with controllers can still play Hard West, just be mindful that the experience is probably best served with a mouse and keyboard.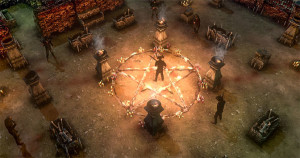 Overall, Hard West is an excellent turn-based strategy game that doesn't rely so much on its Western theme that it falls flat elsewhere. From the inclusion of the supernatural, cults, and even the devil himself, the game goes on a non-stop rollercoaster of events that still manage to be interesting despite being told in, "Choose your own adventure" format text boxes. The clever mechanics, such as luck and a variety of items you can equip, make this an extremely entertaining game at a very low cost. Those who are fans of turn-based strategy games, and don't mind if the journey is a little on the short side, should definitely check out Hard West. A bland overworld and some strange bugs detract a little from the experience, but overall this is quite the polished game at a very low price.