Most point and click adventures have you solving mysteries and going on grand adventures. Many of them, think the Nancy Drew variety, are light and sunny or almost campy in their feel and atmosphere. That's what I was expecting from OhNoo Studio's Tormentum. Thankfully, they decided to go a decidedly different path.
Tormentum – Dark Sorrow is a dark, dark game. It features a uniquely drawn world that is creepy and cool at the same time. It features 75 hand-painted stages. And Tormentum also has over a hundred additional screens as well as dozens of paintings created by the mad painter residing in the game's cathedral. The whole game is inspired by the works of H.R.Giger, so if you are a fan, bonus points right there.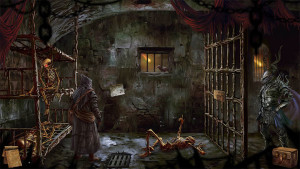 The game starts out with your character who, strangely enough looks like a black mage from Final Fantasy, in a cage underneath a giant blimp. In a cage next to you is a giant man sized rat, or rat man for short. Rat man tells you that you are being taken to a place where sinners are taken. Of course your character has no memory…there's a shock, right?
Regardless you are taken to a giant Romanian, Count Chocula looking castle and end up in a jail cell. Here is another shocker; apparently Count Chocula subcontracted the security measures to the unpaid interns because the replacement gear is right there in the cell with you. Also, it takes roughly five minutes to find something to pry off the place to the gearbox.
Venture into Tormentum right now, if you dare!
It was kind of disappointing that in a game like this that is literally dripping with atmosphere, that it still falls back on the old point and click stereotypes that we have all seen before. I know this is a point and click adventure so it was supposed to be simple, but this feels a bit generic in the execution, at least compared to the amazingness that is the game's setting.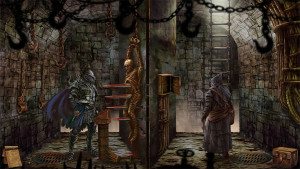 After finishing a few simple puzzles you meet rat man again who is still in his cage. Apparently no one left him a key, per company policy. He tells you that if you go to the kitchen and find poisoned food then you can kill the beast blocking the lever to his escape. Helping him out was also pretty easy. These guards apparently don't pay attention because not one of them asked questions about who I was or knew that I was supposed to be incarcerated.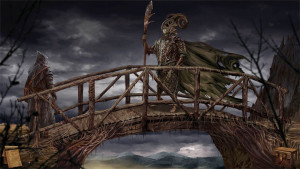 Anyway, the middling gameplay is thankfully overshadowed by the world itself, and that includes the soundtrack. There are over 40 tracks of original music in the game. Truthfully, there were times when I just sat back and listened to the musical score.
As you adventure in this strange world, you will find 24 logical puzzles and mini-games. They are not too challenging but have the advantage of keeping with the flavor of the game.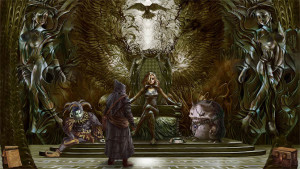 In the end, Tormentum – Dark Sorrow is a pretty cool walk on the wild side of the point and click adventure genre. It keeps all the same logical rules and puzzle types that players of this genre are used to experiencing, but layers on a dark, sadistic and quite twisted world that is far different from the sunshine and roses that we are mostly used to experiencing. If you consider yourself a point and click enthusiast, then you have to add Tormentum – Dark Sorrow to your list of worlds to conquer. Just play this one with the lights on, just in case.