Game of Thrones is one of the hottest TV shows right now. And given that Telltale is one of the hottest developers, especially for strong story-based content, it would seem like having them work on a six part Game of Thrones narrative would be a match made in heaven. And for the most part, it is.
Like what Telltale has done recently with games based on major TV shows, you don't play any of the main characters. However, unlike The Walking Dead where there are literally thousands of survivors all over the place that don't really influence the world at large (meaning you can play just about everyone) in Game of Thrones, the heroes and villains really do make world-shattering decisions, so they more or less need to be included. This is done by including many of them as part of the story, assigning you as a handmaiden to a main character, or as a formerly unknown leader that has to interact with the main characters from time to time. It's actually really amazing to be able to actually talk with the main characters from the TV show and the books. However, it is a little bit of a negative when you realize that you can't really do anything to change that main characters' stories or ultimate fates, though everyone newly introduced as part of the game is, well, fair game. That includes your main characters, so be careful not to lose your head.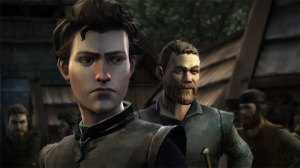 In the first episode of six, Iron From Ice, you end up playing multiple characters, all of them from House Forrester or connected with it in some way. The Forrester's, as their name sort of implies, make their living by carefully managing the ironwood trees in the Northlands. They produce a wood that when crafted properly, can be as strong as iron. They were loyal to the Starks, and are caught up in the political intrigue when that house falls and new lords take over the North. In episode one you will bounce around Westeros and Essos, including exploring some notable locations from the main story such as King's Landing.
Those who have read the books (I have not done that yet, though it's on my list) or watched the TV show (I have seen every episode) will get a lot more enjoyment out of the game than someone who isn't familiar with the cast. For example, one whole scene is just your character talking to Queen Cersei Lannister. On the surface it's more or less a pleasant conversation, though Cersei does push you to see what you will do. Those who know the story realize that she's likely the most dangerous person in the entire realm, able to order your execution on a whim if she so chooses, and somewhat liable to do so. In fact, despite everything that happened during the game in terms of action, I was sweating more in that little conversation than any other time. Each time Cersei took offense at something I said, I was quaking in my boots, thinking it would be the end of me. At other times, there are a few inside jokes that only someone who knows the world would probably understand.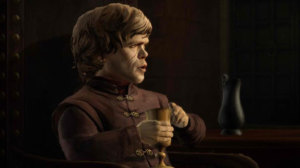 The game starts out with a bang, as you begin with your first character being a House Forrester squire, at none other than The Red Wedding. You are outside with the troops, not in the main hall, and everyone is drinking and partying. Of course here again, knowing the story – as soon as it said The Red Wedding as the location, I knew I was probably doomed.
The game is a good mix of action sequences and story or dialog questions. Unlike some of the scenes in The Walking Dead, especially in the later season two games, all the action sequences here make sense. When someone shoots an arrow at you, you are prompted to raise your shield, something that I was trying to do anyway as one example. There is even a sword fight where you have to swing and parry at the right times. The number of keys on your controller, this was reviewed on the PlayStation 4, has been simplified so that there is not a lot to have to remember in the action sequences.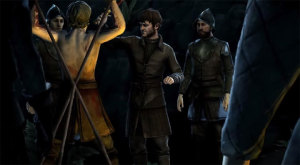 The dialog choices are the same as in other Telltale games. You generally have three or four choices of things to say, which have to be made before a counter dissolves to zero. Not making a choice means your character keeps his or her mouth shut and doesn't offer a response, something that is sometimes the best thing to do depending on who you are talking with and the circumstances. I found the dialog sequences far more fun than the action ones, but enjoyed both and think that different types of gamers will enjoy both too.
Episode one goes on for a little over two hours for most people (I watched several people play thorough the game as part of this review) which is about right I think. That makes it about the same length as a movie, or two episodes of the show. I think most people will be satisfied with the level of content and I hope that future episodes continue this trend. More is always better with Game of Thrones in my opinion.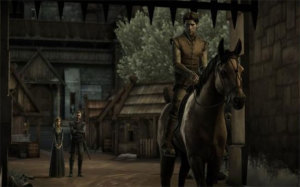 The only nit I have is that despite the illusion of lots of choice, the end result for most games are about the same. I played as a rather brutal player and ended up in the same position as a diplomatic player who opted to be kind every chance she got and spared as many people as she could. That we ended up in mostly identical circumstances was a little disappointing. There was even one place where I think the game forced a story choice onto me too. I ordered some people to wait at a certain place, locking them away from the people I was trying to protect, yet they still through, although I don't know how. Perhaps episode two will explain that. There might be a traitor or something that I didn't know about as the explanation. But we will have to see on that one.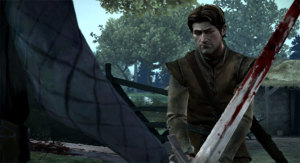 I love Telltale games. I didn't really think they could top their The Walking Dead games, but Game of Thrones does that, at least for me. Anyone who likes deep political intrigue or story-based medieval fantasy worlds will want to give it a try. But of course, this is a must-have for fans of the books or the show. Adventuring, and trying to survive, in that world is a real trip. Even dying can be fun, since that seems to be the ending fate of lots of characters from the books.
Game of Thrones: Episode One: Iron From Ice earns 4.5 GiN Gems for being quite an amazing story based on an incredible world. Give it a try and don't forget, The North Remembers!