Podcasting has become all the rage as it seems every washed up celebrity has one these days. Podcasting has continued to grow and, at the time of this review, GIN is looking to relaunch our flagship podcast The GIN Lounge co-hosted by yours truly. I was shopping for microphones to use and TONOR offered me a chance to review their TC-777 USB condensed microphone. I decided to take extra time to run this microphone through a stress test to ensure consistent quality throughout the review period.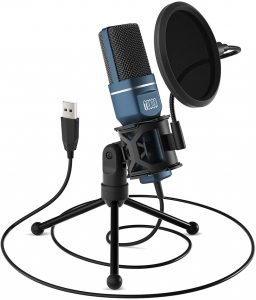 First, I want to say that the microphone is aesthetically pleasing. The microphone is a beautiful metallic blue and fits perfectly in the tripod provided. It also sits at a comfortable level when placed on a desktop. I tested out the microphone with Save State writer Vincent Mahoney on discord to test initial sound quality. Everything sounded great and we even had a good conversation while playing Magic: The Gathering Arena.
Next, I opened Adobe Audition and recorded my reading of three poems by Siegfried Sassoon and listened for any distortion of drop in quality. After listening to it three times the only thing I hated was the sound of my own voice. It is important to realize now that I am no Morgan Freeman and will likely not have a career in documentary narration. I used this microphone four days a week during team meetings for graduate school and it worked flawlessly.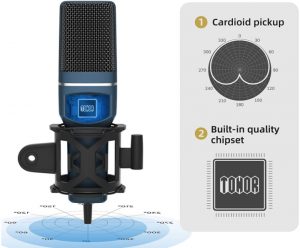 Now comes the important information for all want to be podcasters and Twitch streamers… what is the cost? I was looking at various microphones and most similar types of microphones were around $60. The TONOR TC-777 costs $40 from Amazon and comes with a pop filter, wind screen and tripod. For anyone starting out this is a great deal and will likely be the only microphone you will ever need.
As for the GIN Lounge, we are currently developing content and working on a release plan. Between the pandemic and grad school, free time has been sparse. As Vincent and I continue to get the show ready, just know I will be using this TONOR microphone for the show.