Ok I'm going to be blunt here: Diaries of a Spaceport Janitor is weird. When I say weird I don't mean shorts in the winter weird, I mean Lady Gaga's meat dress is normal in comparison weird. The game starts you out as female alien janitor whose job is to walk around the streets of your city incinerating trash for minimum wage.
If that sounds almost depressing to you I should probably mention that the devs themselves call this game an "anti-adventure." I don't know what that means, but it feels fitting. Early on in your dredge through the trash you find your way into a dungeon where you are cursed by a floating skull that follows you around everywhere like a sort of more-threatening version of Navi. After that you're told to clear your curse you need to find three pieces of an item and from there it's pretty much on you to figure that out.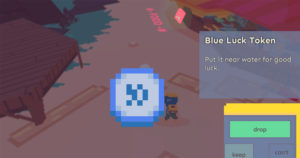 By the time I finished the game, I can only reiterate my earlier statement: Diaries of a Spaceport Janitor is weird. The story has a sense of humor and feels quirky; however I just didn't care about anything. All characters are flat and one note, and the story itself isn't really all that fulfilling. Honestly the story feels like they just wanted something to support the idea they were trying to get across in the game play, which I suppose might have been some sort of a statement about poverty, or the value of incinerating trash, or the disenfranchising of the human condition…or something.
When it comes to gameplay, Diaries of a Spaceport Janitor is also weird. The game is a slice of life style game almost in the vein of Papers Please. However it lacks the drama and intensity of that game and replaces it with the mundane repetition of life. This is where we kind of get into the interesting side of weird with the gameplay.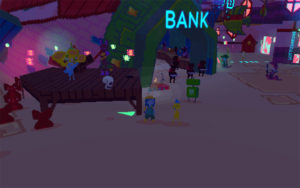 So, the gameplay is pretty much a continual repetition of running around the confusing streets, picking up trash either incinerating it or keeping it, buying food when you're hungry, possibly being accosted by guards, and then finally going home and sleeping just to do it all over again the next day.
What makes this so interesting is the discussion that has arisen because of this game. Some say it is an allegory on poverty and how it is impossible to get out from underneath it without extreme luck. Others have claimed with its self-titled "anti-adventure" genre the game is meant to show you that becoming an adventurer isn't at all that it's made out to be. Others say the game is just poorly made.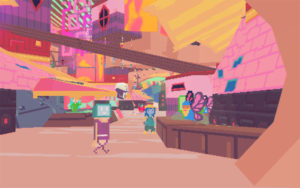 In the end, I could not decide on one of those myself and find it somewhere in the middle which has made this review extremely challenging. Games as social commentaries are not new, however I had to defer to the fact that there have been many games that have not only had a message but also been entertaining to play in the process. Which by the end of this game, when you have to make a large sum of money, while making minimum wage, and giving up most of it for food or from being robbed by guards, is a boring hassle that feels like you would be more productive watching paint dry, or perhaps working a minimum wage job in real life.
Another odd portion of this game is its art style which is a sort of 3d Paper Mario-esque 2d style. However, the problem is the game itself is kind of ugly, and the game knows it. When you first start the game your graphic options are "bad" and "worse" which makes me commenting on how bad the graphics are null and void. They are bad, and the game knows it.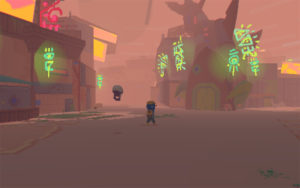 Sound wise the game is mostly filled with the sounds of busy streets and alien language akin to sim-speak. Throughout the game music is either the standard repetitive EDM track sat in the background or more interestingly street performers who give a little bit of life to the game. Unfortunately, once you get deep into this game they become just as forgettable as the normal background track.
When it comes to Diaries of a Spaceport Janitor it's hard to make a call on it. This game could be bad, maybe even terrible in fact. However, its own bad qualities may be what makes it good. This game has something undeniably interesting about it, however the same thing that makes it interesting makes it a terribly boring grind. At the end of the day, for 9.99, Diaries of a Spaceport Janitor might be worth your time, but if you end up thinking it's a total dud, please don't blame me.