There was always something magical about wandering the aisles of the toy store when I was a kid. Each time I turned a corner, I never quite knew what I'd find to spark my imagination. Companies always advertised their must-have toys on television, but there were always surprises on the too-high-to-reach shelves just waiting to be discovered.
For the first time since I was a little kid wandering down the aisles of Toys R Us or KB Toys, I got that feeling when I popped Toy Soldiers: War Chest into my Xbox One. Waves of nostalgia rolled over me as I saw G.I. Joe soldiers line up against an army of fairies and dancing, rainbow-colored bears.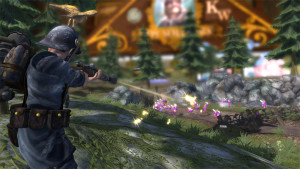 It didn't make sense; it didn't have to. Just like a child rummaging through the toy box, Toy Soldiers takes different sets of themed toys and pits them against each other in a hybrid of the tower defense and shooter genres. The result is a game that, at its best, feels like an homage to the greatest toys of the 80's and 90's, and at its worst, has you staring at a sea of endless loading screens.
War Chest recycles the tried and true gameplay of the prior two Toy Soldiers games, resulting in an experience that's solid but retains the same flaws of its predecessors. Each area starts with a set of predetermined spaces to build turrets and a general idea of what types of enemies are heading towards you. Killing enemies nets you money to build more turrets and upgrade existing ones. Through the game's natural progression and leveling up, players unlock better upgrades for each faction's defenses and hero, which can be called in after achieving a high enough points tally in a set amount of time.
Start your own toy chest army now from Amazon!
While calling in an army's hero is a quick way to make mincemeat out of opposing forces, it's far from necessary. In fact, going for a high points streak is often less effective than taking advantage of the game's tactical viewpoint mode and assessing the overall layout of your defenses.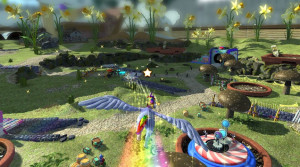 That assessment proves more challenging than it should be, however, due to War Chest's lack of a tactical pause button. Whereas most tower defense games allow players to freeze the game and take strategic actions, such as repairing damaged defenses, War Chest simply lets you pan the camera around the battlefield while locking the controls.
Part of that may be an intentional design choice to force players into assuming control of various defenses. Although the AI proves competent when controlling turrets, it has a limited range and won't necessarily attack the most dangerous enemy. On the other hand, player-controlled defenses have an unlimited area of attack and can target enemy weak points to dispatch of them more quickly.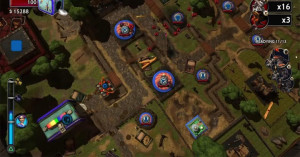 The other great perk of manning the guns is that it allows you to experience how each army's units play, which to my pleasant surprise, turned out to be more varied than I'd thought. For example, the Germans start out with a standard anti-infantry machine gun to handle basic units. Switch to the fantasy-themed Dark Lord army, and the mounted machine guns are replaced by a large, spine shooting quill beast, which fires slower, more powerful shots.
It's unfortunate that the shooting mechanics quickly become stale. Because the game limits where you can place turrets, there are only a handful of viable methods to take on each level. Once you figure out enemy movement patterns, the game loses some of its sparkle and becomes an exercise in rote memorization.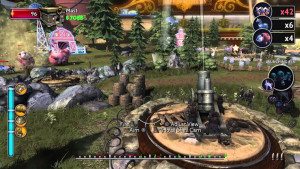 But while the gameplay tires a little too quickly, War Chest's graphics become more astonishing at every turn. The game's overall presentation delivers on every account, featuring gorgeous colors in brilliant, fully imagined levels. It's almost as if the developers' imaginations manifest themselves straight into the artwork, and it's easy to get lost in admiring the attention to detail. Even the messages on the loading screens pay respect to childhood memories of playing with action figures.
That said, players get plenty of time to read those creative messages because the loading screens are excessively long. In a console generation that requires game installations and has taken strides in leaps and bounds to cut down downtime between levels, War Chest totally drops the ball.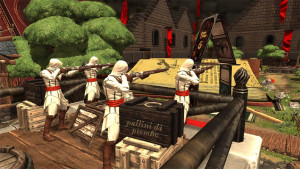 And in a strange decision, Ubisoft decided to charge an extra $15 for the four licensed armies. Given the fact that G.I. Joe and Cobra are a single license, and that Ubisoft owns Assassin's Creed, it hardly seems worth doubling the price of the game. Even tossing in He-Man doesn't justify the price.
Toy Soldiers: War Chest offers bursts of fun gameplay here and there, but as an overall package, it falls well short. Rather than building upon the gameplay of the prior games in the series, it simply brings more of the same.
Toy Soldiers: War Chest earns 3 GiN Gems out of 5, losing some points for missing out on a share of its great potential.