So the mouse pad is a weird thing right? I mean it's a square made of some material you can't pronounce that you put your mouse on because for some reason that nice particle board wood grain decal desk you use doesn't work with your mouse. In fact you're pretty sure all mouse pads are the same other than the randomly selected primary color and/or Windows 97-esque default background pictures printed on it. However, if the fact this article exists isn't enough of a hint, you would be wrong! I found this out very quickly in my review of Accessory Power's ENHANCE GX-MP5 and GX-MP6 gaming pads.
As a note, for this review I used an YCCTEAM 4000 mechanical gaming mouse and a Logitech M510 mouse to test both pads.
As soon as I got the mouse pads, the first thing I noticed was there size. The GX-MP5 comes in at 13.8 inches wide and 12.4 inches tall, while the MP6 comes in at 12.4 inches wide and 10.63 inches tall. These were both larger than my original mouse pad in both height and width. The added size allows you to move your mouse as far as you need to without fear of accidentally going off the pad. The pad is also very stable; once you put it down it will not slide unless forced. Even then it still fights against you which is a good thing in case you are prone to bumping into things.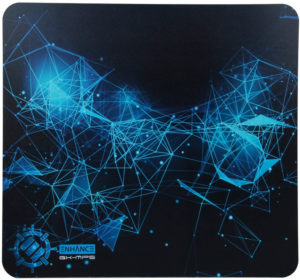 The next big thing is the material they are made from. These pads are not made from the usual rubber nylon extract of element K that flops around like some sort of weird flat gelatin. No in this case the MP5 uses ABS plastic while the MP6 uses aluminum. This creates a very smooth and reactive surface. One of the most interesting things I experienced while using this was an increase in my DPI. Now I normally enjoying using a high DPI for whatever mouse I am using, however once I started using these pads I had to lower my DPI. I think this likely a result of my previous mouse pads actual material creating a slowing drag to my mouse.
[amazon asin=B01F4L7YHQ&text=Pick up the stylish and functional MP5 from Amazon!]
These materials feel solid and definitely look the part with the MP5 being a hard black with a number of geometric blue designs placed on it while the MP6 is clean silver. However I must note one issue I ran into specifically with my YCC mouse on the MP6 is that there is scratching. If you are using a mechanical mouse with open metal parts like me the MP6 creates a scratching sound whenever you move the mouse. I didn't have this issue with my plastic mouse but it still should be noted.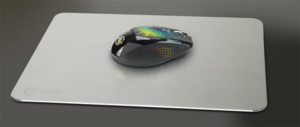 Of course the most important thing is their performance right? Well I can say that these mouse pads were a small but noticeable boost to my game. Over the course of this review I played multiple different games to test it these include but are not limited to: Overwatch, XCOM 2, Payday 2, Killing Floor 2, Final Fantasy XIII, Audiosurf, and Arma 3. Across all these games I experienced improvement in simple but appreciated ways. I felt while using these pads I was more accurate in shooters, more responsive and more agile in strategy, and just generally quicker for reactions. These improvements, while small, are noticeable. I felt that I was doing better and generally performing more adequately when it came to any and all mouse work. These small changes are all much appreciated and make a compelling argument to actually care about your mouse pad.
[amazon asin=B01F4L7ZJI&text=Or grab the sleek and smooth MP6 to enhance your gaming!]
In the end, the ENHANCE GX-MP5 and GX-MP6 gaming pads are great mouse pads. They made me care about what I'm putting my mouse on, which is a big deal. The effects they have on your play are noticeable for the good and would be of use to anyone looking for more reactive and speedy play. If you haven't invested in a gaming mouse pad or are looking to upgrade, the MP5 and MP6 will more than suit your gaming needs.