The very first game in the six part Game of Thrones series hit like a smack across the mouth from The Mountain. The series began in the middle of the infamous Red Wedding, with major characters getting the axe, sometimes literally, before we even really got to know them. The world of Game of Thrones is brutal and backstabbing, and the second episode Game of Thrones: The Lost Lords continues that trend without pulling any punches.
As with its predecessor, or almost any game from developer Telltale, Game of Thrones: The Lost Lords is a mix of action sequences and dialog choices. The first episode concentrated mostly on dialog, while now in episode two, there are far more action sequences. That might make players like the episode more or less depending on their preferences, but overall there is still a good balance. There is just a lot more combat, and a lot more blood, in episode two.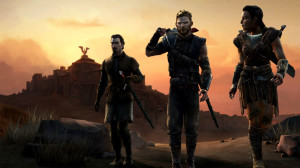 One of the coolest things about Game of Thrones: The Lost Lords is that the game expands its settings into new places, while also keeping us anchored in the more familiar spots we have seen in the first episode. While a lot happens at Ironrath, home of the Forrester clan you are steering during the game, and at King's Landing, we also get to cross The Narrow Sea to the desert themed city of Yunkai and go far into the North to see The Wall up close in all its glory.
We also get introduced to a new playable character in Asher Forrester, who was mentioned in the first episode as an exiled son, but never seen. He is working a sell-sword in Essos, wandering around the Free Cities with a female companion. Much of the combat in this episode is a result of the player bein in control of him. Interestingly enough, if in episode one you had Ethan send his uncle Malcolm to find Asher, he gets credit for that decision once the two finally meet. But if you choose not to send him, Malcolm goes anyway, stating that the need is too great for the family once Asher is located.
In stark contrast to the hot and dry climate around Yunkai, we also get to check in on Gared Tuttle as he finds his way to The Wall. Once there, Gared finds out that a former squire, who is kind of like royalty compared to the other dredges of society who end up there, is given a rough time of it. You do manage to make a friend or two, and of course fall in well with Jon Snow, who has a similar history, especially because the Forresters were banner men for the Starks before their fall from grace. In any case, we get to see the wall and live some of the misery that is the life of a Crow. Eventually we may get to become a ranger and head north of the wall in search of the fabled Northern Grove, but as of yet that has not presented itself as an option.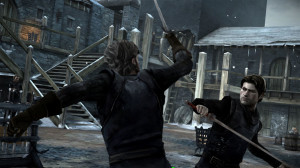 There is also a new playable character who is a pretty big surprise. I won't spoil it for anyone who hasn't played yet, though you do find this out within the first few minutes of the new episode. I will say that this new character could really help to, eventually, make the Forrester's position much more tenable, if they can survive long enough.
Episode two also seems to jump around a lot more between the various characters, which is not unlike most of the episodes from the TV show. It's a good technique to keep things fresh and interesting, and just like the TV show, makes episodes pass very quickly.
Mira Forrester is back again as a playable character, and plays a much more pivotal role this time around. It's also obvious that her increasing influence in trying to help her family has earned her a fair share of enemies of her own. It's possible that she could end up sharing the same fatal fate as some of her family members at some point during the series. Walking around King's Landing is actually some of the most terrifying moments of the game. Whereas everything looks beautiful, you just know that it's really just a gorgeous prison where anyone can be killed for some slight transgression. If you know the books or the TV show, then you know that even the royals themselves sometimes share that grim fate. A simple handmaiden is certainly always going to be in some danger there.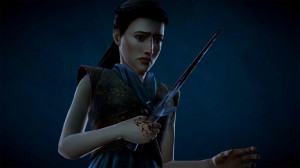 Time-warping because of the intriguing plot and how it skips around aside, there is about two and a half hours of gameplay in Game of Thrones: The Lost Lords. That puts it in line with a feature film, though for just $5, is a lot less costly, and arguably more fun. Interestingly enough, when the episode ended I was all ready to slam episode two for being too brief, until I looked at the clock and realized I had been playing for almost three hours (I took my time with some of the sequences). It just seemed to pass in the blink of an eye – the way many episodes of the TV show do for me as well.
So far, the Game of Thrones videogame has put out two episodes and each one has been pretty amazing, with this one, episode two, slightly better than the first. Can Telltale keep it up for all six? Only time will tell, but this could very well be the best episodic, story-based title that they've ever created. Given the amazing nature of some of their other games, (Walking Dead, Back to the Future) that is saying a lot. Game of Thrones: The Lost Lords earns its keep and then some, and bodes well for the series as a whole.