I started playing the Far Cry series late. I began with Far Cry 3 after it had been out for a long time. I loved it. When Far Cry 4 came out, I bought it immediately. I didn't regret that choice. When I finished Far Cry 4, I bought a used copy of Far Cry 2. I also loved that. I mention this because I have a history of loving this series. When Far Cry Primal was announced I wasn't sure about the new direction.
Don't get me wrong. I'm actually fascinated by early human history. I was the nerd who was really excited when Dimitra Papagianni's book The Neanderthals Rediscovered was released, which would seem to imply that I would be the perfect audience for Far Cry Primal. I had my concerns though. How would the developers handle the science? Would they be serious or would it be some lame caveman game that looked like that that awful Ringo Starr movie from the 1980s. Then I started seeing trailers and gameplay footage and I started to worry less.
[amazon asin=0500292043&text=Pick up The Neanderthals Rediscovered to go with Far Cry Primal]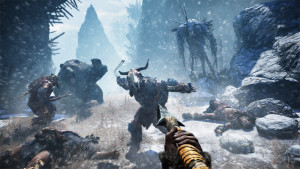 Now that I've actually played the game I can really appreciate all the work that went into it.  The developers worked with linguists to create three distinct Indo-European languages for the tribes in the game. The graphics are stunning and the game environments feel both real and familiar while also seeming wild and foreign. The first time night falls in the game it seems so much scarier than when night falls in other games. It's strange how quickly you adapt your mindset to simply needing a fire. Maybe it's because just before I got Far Cry Primal, I played The Flame in the Flood, which is all about survival, but I adapted quickly to the rhythm of the game.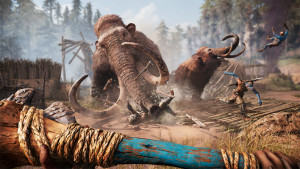 I also thought I would miss the guns and the cars. Let's be honest, guns and cars were a big part of previous Far Cry games, but I don't notice their loss as much as I thought I would. Despite taking place in 10,000 B.C., it's still a Far Cry game. There is still territory to reclaim by capturing camps from other tribes. The goal is to expand your tribe in the Land of Oros and build up its encampments while fighting off the two other hostile tribes.
[amazon asin=B0166QDJDQ&text=Start getting Primal today with a copy from Amazon!]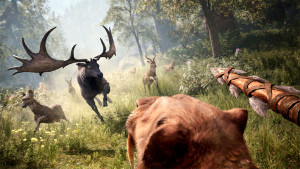 Your tribe is the Wenja and you're fighting for territory against the Udam and the Izila. The Udam are a savage group of what look like Neanderthals that engage in cannibalism. The Izila are a fire-worshipping, cult-like group that are faster and smarter than the Udam. The Wenja seem the most like modern humans, so it's easy to identify with them and their plight.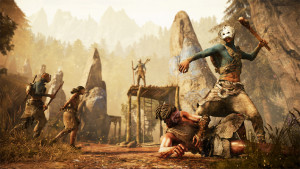 In addition to the other tribes, there are a lot of beasts roaming about that would like to kill you. They're also territorial and like the other tribes they don't think you should be invading their space. While hunting was a part of the last two Far Cry games, it's never been as significant as it is in Far Cry Primal. Once you acquire the beast master abilities, you have a choice between killing or taming a predator. Fairly early on you also get an owl that serves as your eyes in the sky, but it will also kill grown men for you. I could kill people all day with the owl. It's literally my favorite thing in the game.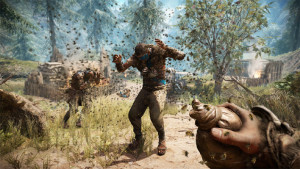 Is Far Cry Primal for you? That depends. If you like hunting, gathering, collecting, and killing all up close and personal, then yes, you're really going to enjoy this game. If you only like to play with guns and cars, then no, you're not going to dig this. As for me, I'm all kinds of eat-it-up about playing this game. I appreciate that it's all that I love about previous Far Cry games while being different enough to keep me interested and make me think outside of my typical methodology for tackling things like liberating an encampment, and by liberate I mean kill the other tribe and take their stuff.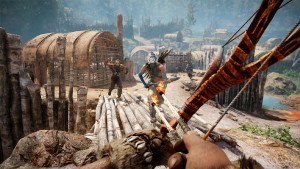 The only thing I dinged it on was gameplay and that's because the drug sequences (which are a big part of Far Cry) have some ridiculous controller usage. The initial sequence wants you to use R3 to attack. R3, seriously? Who had that idea? Someone actually taking drugs? But that tiny aspect of an enormous game with so much to do and see and collect and kill seems a small thing.
Far Cry Primal earns a rare perfect 5 GiN Gems for making me so very happy. If you are looking for something to play that is amazing and also different, it should make you very happy too.