Fear and confusion are two of the strongest emotions we have, and Nilo Studios hits these hard with their first person mystery titled Asemblance. Unfortunately for Asemblance, one of these emotions is often too short and one eventually becomes too long lived. If The Twilight Zone and P.T. had a one night stand that resulted in child birth, Asemblance would likely be the result.
From the beginning of the game you are placed in a chamber of sorts; there is a room in front of you a computer nearby and a voice speaking to you through some sort of intercom. That is all the information you have as a red light flashes and you're told of the situation you're in. You are quickly asked a question on your emotional state only to find out it was just a test and it only gets more confusing from there.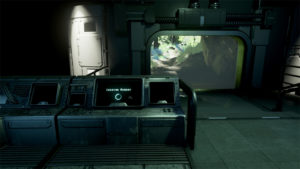 You are then implored to choose a memory to go to. Yep that's right this is some real Inception level stuff and it's only the beginning. From there it's a non-stop journey through a set of memories where as long as you follow the context clues you will be continuously finding new endings.
Now as you push through the game you will pick up small clues about what's going on from listening to tapes to reading papers on a desk the game does it's best to give you bread crumbs to follow. However as of the time of this review there is one key issue to the story element: no one seems to have found the final ending.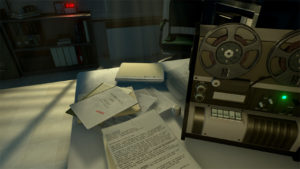 The first batch of endings are easy to find once you get rolling and you'll want to find them because they are interesting and add depth to the already engrossing world, however the final ending, whether it reveals everything or not, seems to not have not been found by anyone except the dev team. Now a challenge is fine, but for something to be so utterly confusing to figure out is hard to justify even with the game's narrative.
The games atmosphere is one of its strongest points. Asemblance's ability to change the tone and feeling of the situation is stellar. In one moment you can be in a serene somewhat relaxed environment and a minute later you'll be covered in goose bumps as foreboding sounds and unsettling shadows await you. The game visually is solid; it was built in Unreal Engine 4 so it is by no means bad. Where the game excels in its visuals is the way it uses small details and effects. The way shadows appear to be mysterious and threatening and the way the screen will shake and fissure like it were being interrupted, even down to the use of color.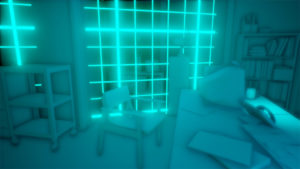 The other part of design where this game excels is sound. The sounds of this game are absolutely stellar; everything from the sound of footsteps to the small bits of voice acting or glitches in the AI narrator's voice. Every area in the game has a distinct sound to: the outdoors is quiet but soothing, the office is cold and weighted, and the apartment is unsettling and unnatural. All of these small details in sound make a big difference as they manage to keep you involved where the gameplay does not.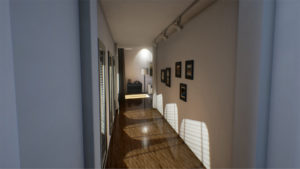 The gameplay of Asemblance is most similar to other trippy walking (pun intended) simulator: The Stanley Parable, however that doesn't get it out of the woods. First I'll be fair, for a walking simulator some of the other included actions are interesting. These include traveling from one memory to the next through focusing on objects or even changing the time by looking at clocks. Unfortunately, these get old quickly as you continue to try and find another ending. The biggest problem this game has is that there just isn't much there. You have four accessible areas and about five or so endings. Once you get stuck trying to figure out the final ending no one else seems to have found, you realize their isn't all that much for a ten dollar price tag.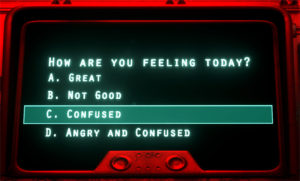 In the end Asemblance is a game that has unlimited potential if, according to the devs, this is only the first of a series. However, this is still only a standalone title and therefore can only be treated as such. If there is a series and it turns out to be amazing we might look back at Asemblance as the first step in a great journey, but hind sight is 20/20 and current sight isn't all that great.