I will say proudly I enjoy it when a game abuses me…that came out wrong. Let me clarify; I am a gaming masochist (still sounds bad doesn't it?) Ok listen, I like it when a game is not the power fantasy. I enjoy when a game forces me to accept my own human glass like fragility, and makes me pay for thinking I can rush headlong into the fray like some kind of jargon spewing super soldier without having to deal with the consequences. It's why I love games like Dark Souls, abuse me for thinking I'm good enough and when I come out on top it will be so very rewarding. Wow this is quickly changing shades…fifty shades if you know what I mean. Ok I'm sorry but I bring this up because I adore that style of games, which is why I wanted to love indie title Necropolis. Unfortunately, it wasn't as great as it could have been.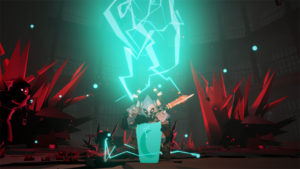 When Necropolis was announced I was very excited. Having another source of enjoyable suffering that looked unique made me very happy. Now I would like to insert that this review is after the game re-released itself in its "Brutal Edition" so my opinions will be of the current product as it stands. Necropolis is a game that very obviously was inspired by the likes of Bloodborne and Dark Souls with a little bit of Diablo and it feels like weirds mix of all those games.
The difficulty is of course it's first defining factor, the game has no recharging health bar, enemies hit hard, items are scarce, and it's easy to get in over your head. The game offers up two starting classes that affect how you play; the blackguard and the brute. The blackguard offers up a style akin to Bloodborne; speed and aggression is your best option if you decide to be methodical and rely on defense you will regret it. While the Brute is like Dark Souls; you need to believe you can take a hit and wait for your opportunity to strike. While the choice is welcome and appreciated it isn't so big of a change to REALLY make it feel very different.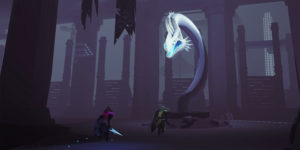 One positive in the game as it stands is the difficulty as it is not artificial. What I mean by this is that enemies are challenging and there is variety. The game does not rely on just throwing more enemies at you. When it comes to dealing with these enemies it is a little hit or miss. Controls are simple and familiar but are often times unresponsive and this can be very agitating, especially in a game style all about timing and reactions.
One of the key parts of this game is the fact that every time you die and come back, which you will do frequently, the dungeon is procedurally generated. This means no two play-throughs are alike this both good and bad. To start with the good; the random generation means if you have a rough run of it the next time through you might go somewhere less brutal. You also are able to see more of the game's enemies and train yourself on a wide array of usually interesting enemies.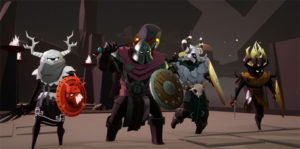 However, on the bad side there are a few things as well. First and foremost, the while the sections you move through look different they all feel VERY similar, like you've been there before even if you have only just arrived somewhere. The procedural generation also creates a sense of pointlessness and just lack of direction. It feels often times like you are slogging through with no end in sight. This is compounded by the lack of a story. Now I would be lying if I said the small bits of story here and there aren't funny because they are. However, the humor is damaging because it makes everything feel more and more pointless.
One large positive to Necropolis is its art style. It's just really cool. I often found myself just admiring the visual style of the game, it is unique and makes the experience feel just a little bit more original. However, I will say the sound design is lacking. The weapon sounds are generally very unoriginal I don't hear the weapon I hear the sound file so to speak. Music is up and down some of it is good some of it is not, it goes both ways.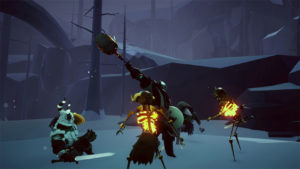 At the end of the day Necropolis is a game that shows potential for growth especially with the very dedicated and user friendly team that makes it. While it is by no means a block buster title that you need to own if you are a Souls/Borne fan it may be worth a shot if you are going through abuse withdrawals. And if you are someone who has been avoiding those games out of fear, Necropolis might be a good starting place.