Hey all! I'm back with the third entry in the Phoenix's journey across the galaxy. It's the Kantovan Vault, Book 03 of the Spiral Wars series, by Joel Shepard!
The third release in the Spiral Wars novels, this one is also a military thriller like the first book, Renegade, which we loved. And then there was the second book in this series, Drysine Legacy, which we might have even loved a bit more. It's clear by now that Shepard knows how to craft both great sci-fi and exciting military fiction. And thankfully, Kantovan Vault continues that tradition, adding yet another great entry to the series.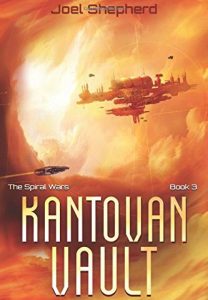 Plot: This entry includes the addition of a plot type I love, and while I won't name it as it's really spoilerific I will say that you can find it in one of my favorite series Mistborn and it's not magic. I doubt it'll continue to be a part of the series after this entry, but if it does I know that Mr. Shepard will do an amazing job with it.
[amazon asin=1548361933&text=You dont want to miss the Kantovan Vault novel. Grab a copy from Amazon!]
Characters: There are lots of new faces in this entry, and they're all pretty freaking amazing. That being said Trace is still my favorite overall character, but Lisbeth, Ska and Tif are really close to her.
Overall: Kantovan Vault blows the previous two entries out of the water in terms of both action and intrigue, so if you've been enjoying the series thus far you're not going to be disappointed.