Hey all, I'm back for 2019 with another review for the good folks at Audible. It's Renegade, Book 01 of the Spiral Wars series, by Joel Shepard!
Plot: The plot is intense, and very much a military space opera from the perspective of the ship that won a great war recently. There is tons of intrigue, action and adventure and I enjoyed every minute of it after about the first half hour. The first half hour is a bit of a drag, but it really does set up the rest of the book and series so stick through it. It becomes quickly enthralling and you come to love the characters we get to see the galaxy through.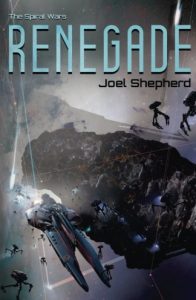 Characters: Erik Debogande is our male lead, and while he's an interesting main character and a great focal point in the plot it's his female counterpart who really takes the show for me. Trace Thakur is one of the most badass and capable women I've ever had the great pleasure of experiencing in any medium and that is truly saying something consider. She's up there with characters like Mara Jade or Samus Aran in being a complete badass who makes everyone else in either gender look incompetent. The entire cast however is incredibly well done and I enjoyed every single character you meet in this first book. I'm really looking forward to seeing what the crew of the Phoenix has to deal with next now that this book is over.
Pick up Regenade from Amazon and get ready for sci-fi adventure!
Voicework: Mr. John Lee is our narrator for this ride and he does an awesome job, and I had to look up why his voice sounded familiar as he narrated a couple of my favorite spy thriller novels the Gabriel Allon series.
Overall: This is a must read/listen to any who love Space Operas that deal with things from the standpoint of a standard military crew who are out there doing the fighting, rather than the bigwigs that you so often have in some Space Operas like Star Wars.
For those who like: Sci-Fi, Space Operas, Military Fiction, Excellent Plot, Outstanding Cast of Characters, Great Narration.
Not for those who don't like: Any of the above, but you really ought to give this a shot.