Hey all I'm back with the second entry in the epic Sci-Fi series I've started listening to from the good folks at Audible. It's Drysine Legacy, Book 02 of the Spiral Wars series, by Joel Shepard!
For a little refresher, be sure to check out our review of the first Spiral Wars book, a ripping military tale set in a cool sci-fi setting. That was Renegade, and sets up the events in Drysine Legacy quite well.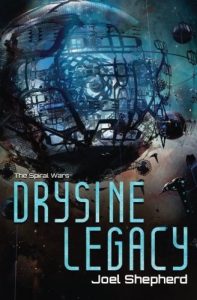 Plot: This second entry in the Spiral Wars series is even more action packed and filled with epic battles than the first one and that is truly saying something considering how much fun I had listening to Renegade. I won't spoil more than that, but if you enjoyed the first book at all you'll love this sequel.
Pick up the thrilling Drysine Legacy from Amazon today!
Characters: We get introduced to a whole bunch of new characters, and while I can't name my favorite new one, I will say that she is very interesting, very brainy, and I can't wait to see more of her in the future. That being said Trace is still my favorite character in the  Spiral Wars as a whole.
Overall: For those who love Sci-Fi, Military Fiction or just lots of great action, Drysine Legacy will satisfy by delivering it with panache.