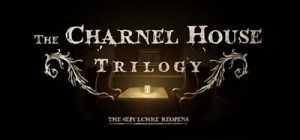 Indie game developer Owl Cave and independent publishing studio Mastertronic are excited to reveal the full cast of the special edition point-and-click adventure game series, The Charnel House Trilogy, coming to PC through Steam this April.
Experience critically-acclaimed horror short Sepulchre as you never have before, framed within two brand-new eerie interactive adventure tales, and get entwined in its absorbing narrative layers. Unravel The Charnel House Trilogy, consisting of Sepulchre and two additional games, prequel Inhale and sequel Exhale, building upon the original adventure game story with startling twists and turns and intriguing new characters.
The Charnel House Trilogy boasts an impressive cast starring New York Times bestselling author Madeleine Roux, iconic media personality Jim Sterling, celebrated actor Ashly Burch, Blackwell alumni Abe Goldfarb, amongst many other high profile voice talents.
To celebrate the official voice cast reveal, we've prepared a new Cast Unveil trailer, featuring music specially composed for the game series, by TV, film and game composer Gavin Harrison.