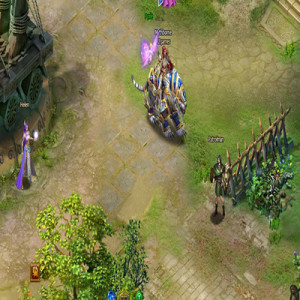 Global games publisher Reality Squared Games announced today the upcoming launch of its latest browser title, Mythborne. Developed by TianTuo Company, this free-to-play MMORPG with 2.5D graphics is set in an ancient world of Greek mythology and features turn-based battles determined by attack speed.
Mythborne players will be able to choose between five classes: Duelist, Oracle, Hunter, Mage, and Paladin. As they progress through the story, they will have the chance to recruit non-playing characters, known as Heroes, to fight alongside them in battle. Players will have to balance their hero squad's strengths and weaknesses against their own character's skills in order to advance in the game.
Key Features:
•Hero Recruiting system, where each hero places unique tactics at your disposal
•Skill Upgrade with three skill categories: Active, Rage, Passive
•Multi-stage PvE systems
•Boss Raids, where players fight bosses and each other
Mythborne will launch its Alpha test on Thursday, September 4th, 2014 at EDT 10:00 AM. It will last for one week and the feedback obtained will be used to fix any existing bugs and improve the user experience. Once the test is over, all character and account data will be deleted in preparation for the game's Open Beta release.