Degica Games is pleased to announce that following its incredibly successful Kickstarter two years ago ($1.2 million+), the finale of the highly acclaimed visual novel series will be coming soon to Steam!
Muv-Luv Alternative, the third and final story arc in the original Muv-Luv trilogy, will be available for purchase (and play) on Steam September 18, 2017 for $39.99 in English, and also available in Japanese and Chinese.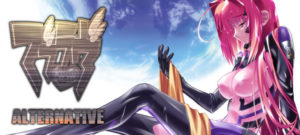 "This is it. The chips are down, the die's been cast, and the fate of the multiverse is on the line. Step back into the cockpit and prepare for deployment in Muv-Luv Alternative. Just be sure to keep a box of tissues handy, because it's about to be a bumpy ride.
Muv-Luv Alternative is an epic tale of political conspiracies, international espionage, alien menace, quantum causality, bittersweet reunions, genetic modification, and much, much more. Gluttons for punishment, rejoice, because once it gets rolling, there are no brakes on this pain train.
Three years have passed since the day Takeru, an unsuspecting Japanese high-schooler, suddenly awoke in a world not his own — a war-torn alternate reality in which mankind was on the brink of extinction. As the tale comes to its despairing close, once again he awakes in his childhood bedroom. Not in his own world, but back where he was first spat out into this hellscape three years prior. Can Takeru use his knowledge to change Fate?"
The Muv-Luv series is an epic saga told in three parts: Muv-Luv Extra, Muv-Luv Unlimited, and Muv-Luv Alternative. What begins as a tongue-in-cheek romantic comedy ultimately transforms into an action-packed thrill ride in a war-torn alternate reality, and it's this drastic-yet-methodical genre twist that makes the final chapter the most highly-revered visual novel of all time.
Features:
• Linear Visual Novel – Unlike the first two parts, Muv-Luv Alternative is almost entirely designed as a straightforward interactive premiere movie, complete with voice acting, subtitles, and intense music, perfectly fitting for a finale.
• Over 50-70 hours reading time.
• Available in three languages – Japanese, English and Chinese
• User Interface has been reworked so it is compatible to tablet PCs and touch-screens.
• User save data is kept in the Steam cloud so readers can continue their progress anywhere with ease.