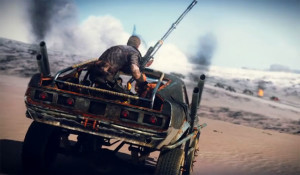 High definition digital versions of all four of the movies in the cult classic "Mad Max" series, as well as the new Mad Max video game in the series are available for sale now via electronic sell-through (EST) from Steam, it was announced today by the entertainment platform that allows users to play, connect, create, and more.
The "Mad Max" video game from Warner Bros. Interactive Entertainment and developed by Avalanche Studios makes its debut today and features open-world, third person action set in a post-apocalyptic setting.
Introducing an original story set within the universe of the "Mad Max" films, the game's launch on Steam is accompanied by the digital availability of all four films in the Mad Max Antholology; "Mad Max," "The Road Warrior," "Mad Max: Beyond Thunderdome," and the recently released "Mad Max: Fury Road."
The game and films will be offered in a variety of packages and price points to Steam gamers in the US, Canada, Russia, Brazil, South Korea and much of Europe. Fans in Spain (9/4), Germany (9/10), Norway (9/14), France (9/14) and the UK (9/21) who purchase any of the available packages now can access the catalog titles immediately and "Mad Fax: Fury Road" later in the month when the title is first available in the territory.
"Steam is a great partner for Warner Bros." said Jim Wuthrich, president of Americas, Warner Bros Home Entertainment.  "Together we can offer fans a great, immersive film and interactive experience. Steam is the ideal place to launch both the fantastic new title from Avalanche as well as the full collection of films together."
"Just about every gamer is a fan of the Mad Max anthology," said Doug Lombardi at Valve. "From the original to the amazing 'Mad Max: Fury Road,' these titles have captured the imagination of film and gaming fans alike. As Steam's library of games and movies continue to grow, the Mad Max game and film anthology represent major offerings for the platform."