Rogue Games are well known for their big involvement in the strategy games market on the mobile platform. Knockdown Heroes was developed by Craneballs Studio – a name you may recognise if you've played the Overkill shooter series, which when reviewed back in 2015, was called "a big silly flappy bang bang nonsense of a shooty game. If it was a noise it would be 'wheeeeeeeeeeee'", before being awarded very respectable Ratings. With pedigree like that, how can you say no to their latest addition? They never fail to impress us with their games and their new game, Knockdown Heroes is a clear example of why. The game is available on both play store and IOS. You also can find countless games available on both these platforms here.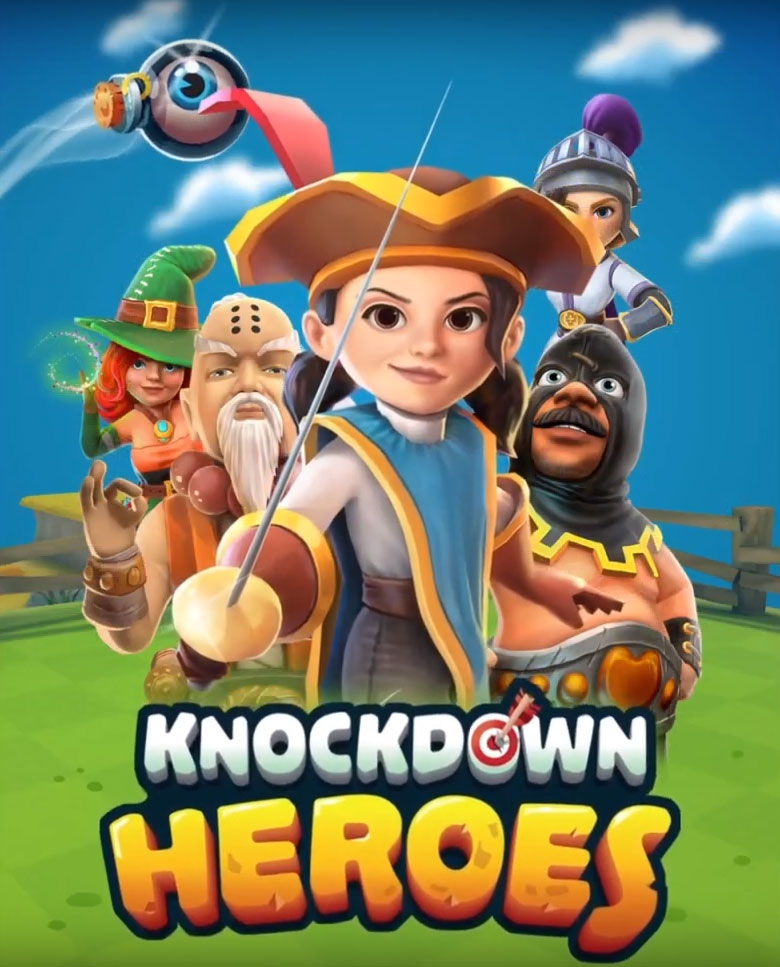 It was introduced in Czech Republic and mixes a thrilling one-on-one arena battle style with a taste of medieval hero card-based collecting in an endless fight for survival.
The game is said to offer simple yet intuitive, mobile-friendly controls, an interesting and eccentric cast, and a mid-core strategic experience. You can also have a go at usual daily quests to complete and limited-time events to test your skill on. There's also a season pass available for extra rewards. Rogue Games had stated that Knockdown heroes will be the first of many mobile games they are planning on launching in the coming year of 2020.
Gameplay:
The player has nine medieval heroes to collect and choose from. Each medieval hero features their own particular style of fighting and skillset. Once collected these characters are used to battle out opponents to lead their clan to the top of the league leaderboards. Winning battles earns the player extra skills, spells from battles, buffs, trophies and chests where upgrades, new abilities and new customizations can be unlocked to be used in battle.
Players can also create or join their own clan, where they team up and chat with other players to battle it out against other clans in the multiplayer leagues. Clan chats give the player the ability to ask for help during battle or plan out strategies for the next fights. You can also challenge teammates to a friendly PVP fight. 
About the game:
The co-founder of Rogue Games stated that the idea of this game came from a conversation he was having with his son about medieval gladiators, where things quickly escalated from historical figures to fictional game characters. The producers had recently also made the epic shooter, the Overkill series. Although unlike the old production, this game features a lighter environment, with a main focus on particular controls, a colourful list of characters to choose from and a more strategic approach, where according to Rogue Games, the key to winning is finding the right combination.
"We are excited to introduce a high quality action game like Knockdown Heroes alongside our recent free-to-play games like Wild Life: Puzzle Story, and Vainglory" stated Matt Casamassina, co-founder and Chief Strategy Officer of Rogue Games. "The squad at Craneballs has produced a great, fun battle experience in Knockdown that is anticipated to keep players coming as they join their friends and compete in Leagues for their clans to reach the top of the leaderboards."
About the Developers:
Rogue Games was started by industry professionals with over 150 years of games developing experience altogether. They are a new type of gaming production company, driven by innovative technology and ingenious developers. Their large number of games which are found across all platforms, including PC, Console and Mobile, contains numerous titles which made big hits, including Oz: Broken Kingdom, Wild Life:Puzzle Story, Vainglory, Hexaflip, Super Impossible Road, The Action Puzzler and loads more. Their headquarters are located in Los Angeles, with offices in Seattle and San Mateo.