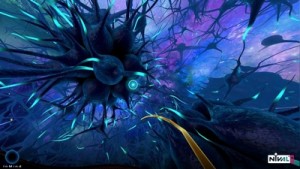 Nival VR, a new development unit of Nival, is excited to announce InMind — a new project based on virtual reality technology that combines gaming and educational elements.
The future is nigh. The humanity is standing on the brink of a new era where modern healthcare makes tremendous scientific advancements. With the help of nanotechnologies a surgical prototype bathyscaphe allows its operator to shrink to a microscopic size and travel inside the patient's body.
This first demo of InMind allows players to experience the journey into the patient's brain in search of neurons that cause mental disorders. Submerge into the microworld and experience the miracles of the human mind!
"Virtual reality opens new and exciting opportunities for the gaming industry," said Sergey Orlovskiy, CEO and founder of Nival. "We have a longtime history as a developer, and we believe that games can be much more than just entertainment. We also believe that education can be fun. Our aim is to combine both education and entertainment, and we've invested both our funds and our experience as a game developer into this concept. InMind is the first step in this direction. We have already shown our results to members of the academic community, and are now excited to share our vision with a wider audience."