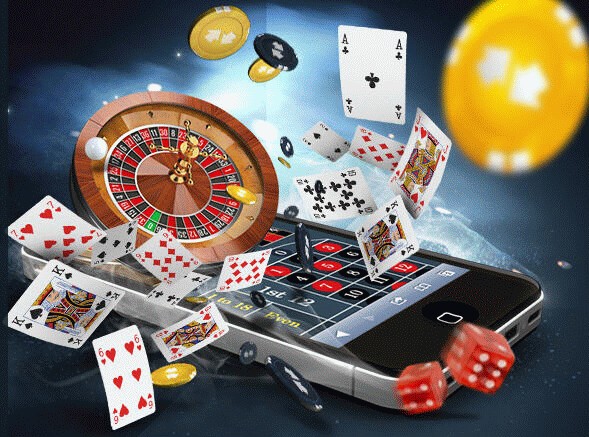 Having fun gambling at an online casino is your priority, but feeling safe is your minimum expectation. £6,282,066,387 was spent in UK casinos from Nov 2017 – Oct 2018 and you need guarantees that your own money will be spent wisely. From checking the news to reading customer reviews, we've explained how you can establish if you're using a reputable online casino.
Find out if the online casino has featured in the news
Before you do anything else, I recommend that you Google the name of the online casino and then what articles have been written about it. This might seem too simple to be an effective way of checking how reputable a casino is, but it's a quick way of spotting red flags – as the two examples below demonstrate: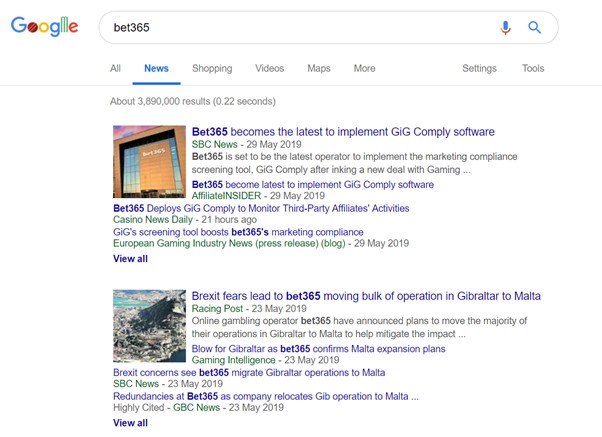 Bet365 is one of the largest sports casinos around. As you can see from the screenshot, BET365 is currently in the news for the right reasons:
Using compliance software
Monitoring the activities of its affiliates
Moving its operations to guard against financial loses
Now compare that to Osiris Casino: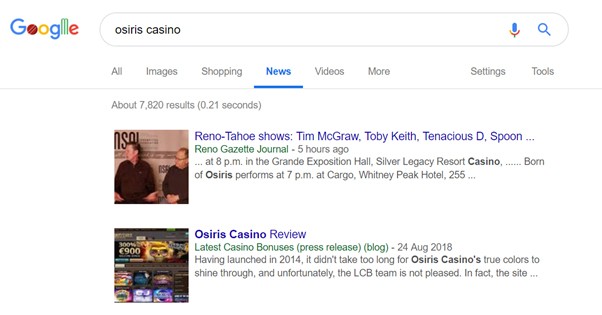 A review featured in Google News explains that an industry publication is unimpressed with the casino. According to reports, this is because using unlicensed games and having faulty terms regarding deposits and bets are just two of the unreputable practices Osiris Casino has been involved in.
Check the reviews from online casino sites & publications
When you want to know if a game is any good you head over to a specialist gaming review site. Why? Because it's run by fans and professionals – people who know what they're talking about. You should take exactly the same approach when establishing how reputable an online casino is.
Online Casinos is a review site that covers a wide range of gambling websites. Its reviews look at the bonus offers, deposit requirements, games available, and lots more of the things that help you to decide how safe an online casino is. I recommended you go even further than listening to the professionals and that you also find out what other gamblers are saying.
See what the comments from your fellow gamblers are saying
While getting the advice of industry professionals is great, there can be few things more revealing than the thoughts of other online casino fans – after all, they just want to have a fun gambling session on a site they can trust. While there are many forums and Q&A sites that give you insight into the thoughts of your peers, my personal recommendation is to use Trustpilot.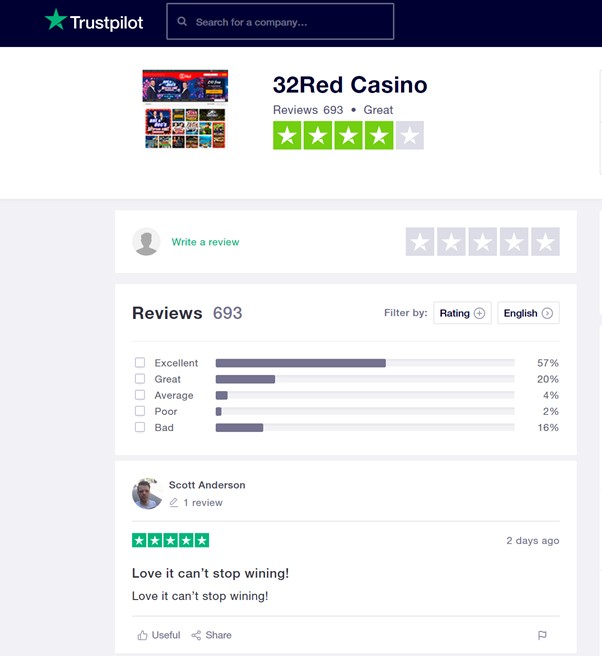 Trustpilot is a website that is specifically for customer reviews. Since being launched in 2007, it's become the industry standard in its field – so much so that companies (including online casinos) publish their Trustpilot rating as a badge of honor.
One thing to remember when checking the reviews (particularly for gambling) is that a customer may have had a bad experience for reasons that aren't the fault of the company – such as having a big loss. So read the reviews as well as looking at the star rating.
Establish which gambling authority the casino is licensed by
If you really want to know if you're dealing with a reputable online casino, then one of the most important things you need to find out is which gambling authority the casino is licensed by. Why? Because this will tell you the minimum standards expected of the casino.
Different regional gambling regulators and licensers have differing levels of oversight and player protection built into their operational models. This covers practices like making sure casinos deliver on the offers they make to their players and that they are financially solvent. Online casinos regulated by regions such as the United Kingdom or the Isle of Man should, therefore, be considered more reputable than those in places like Costa Rica or Antigua.
Your minimum expectation when gambling at an online casino is that you are safe – safe from losing your money to an insolvent casino that can't pay gamblers their deposits; safe from casinos that don't deliver on their bonus offers; safe from casinos that offer a standard of games that's so poor that it means you're wasting your money by playing them.
 By checking what's being said about an online casino and who is regulating them, you can get a great idea of just how reputable it is. Of course, we don't know exactly what matters to you when deciding how reputable an online casino is.
One final thing you can do is to simply ask the casino some questions – contact the customer support team and if they give you the answers you want then great. If they don't then it doesn't matter if the casino has a five-star rating on Trustpilot. Why? Because it can't satisfy your specific standards.