No one would deny that one of the most thrilling elements associated with playing video and online games is a unique chance to use bonus offerings. These could take different shapes, including extra spins or some complementary rounds depending on the type of game you have chosen to play. The bonuses of such kind give players an exclusive opportunity to increase their winnings many times. But what would you say if we tell you there are also Hidden Bonus Slots that contain some secretive bonus offerings and might turn you into a wealthy man with greater ease than the rest of games on offer. Your opportunities with such games are virtually endless, so here is everything you need to know about the most popular games packed with hidden bonuses that cannot be encountered in any other online or video adventures.
First and foremost, let's discuss the most common hidden bonus types existing on the modern-day market. These include but are not limited to the following:
Bonus rounds – these can be validated by means of some particular symbols allowing gamblers to grab additional payouts with ease. The most common slots of this variety include movie-themed ones.
Free for All – this option allows casino users to choose between a whole diversity of hidden bonuses, such as extra spins and multipliers, within a short duration of time. They make it possible to trigger the bonus rounds as well and get hold of even bigger wins.
Multi-Round – in case you come across the games with multi-round bonuses, you'll be given a chance to increase the amount of bonus rounds to be tried out.
Cascades – here the symbols on a given win line are going to be substituted by a totally different range of icons that will fall down from the top of the display. The newly emerged icons sometimes serve as "wild tokens" that are likely to increase your wins many times and boost your overall payouts.
Spinning Wheel – this is quite a widespread bonus that has different names whenever it is offered as part of the bonus video slot. As suggested by the title, gamblers are going to spin the wheel in order to grab some particular prize.
There are lots of other hidden bonus variations that can be accessed by players throughout the gameplay of specific video and online games. Let's discuss what most popular slots of such kind are accessible to the modern-day slot spinners. Here is a list of top 5 most spectacular hidden bonus games.
Desert Treasure (from BGaming)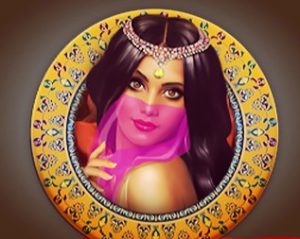 Nobody would argue that the Arabian Nights theme is an excellent option for a slot game packed with multiple secretive bonuses and extra privileges granted to casino users. Desert Treasure is ranked as one of the prominent examples of this type of games. The soothing sounds of Arabian-styled ethnic music will definitely inspire you for big wins, while the presence of Hidden Oasis bonus option will add more drive to the proceedings. You'll get a chance to interact with a stunningly beautiful princess, mesmerizing cobras and even a stealthy sheik. This game is packed with incredible treasures hidden inside the ancient chests that are capable of making you a wealthy man in the nick of time by adding some pricy wins to your pockets. Grab your courage and set on a journey towards big wins, while the extra bonuses that are hidden inside this slot will definitely make your chances of winning huge prizes even more realistic than ever, so don't miss a single opportunity to increase your monetary gains many times.
Paradise Dreams (from RTG)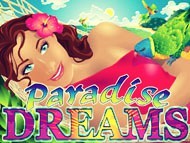 RTG developer has launched a card-based slot game that is all about a paradise island landscape allowing players to activate a bunch of hidden bonuses, such as the bonus rounds that are going to pay out a thousand times bigger reward than your initial wager. You'll get all chances to make your most sacred dreams come to life in case you gather three paradise islands in one line. You will also encounter a dark-haired beauty that will increase your winnings two times in case she lands on one of your win lines. The hidden bonus round is going to be activated only if you land at a specific combination of icons – one lady and three greenish blue birdies. Overall, this game is equipped with plenty of possibilities to grab pricy rewards, the search for which makes the gameplay increasingly exciting and engaging. You'll get a chance to land at various rewarding combinations of beautifully styled symbols, including the flower-shaped ones and those taking the form of other island-related attributes.
Starburst (from NetEnt)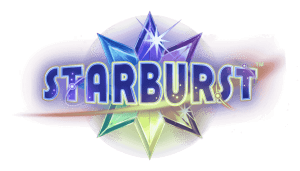 This one is probably the most highly demanded slot packed with hidden bonus offerings accessible to all lucky gamblers. The vivid graphics allows enjoying colorful gameplay and brightly designed theme. This is a five-reel slot with ten win lines and an intriguing range of features. Even though you won't find any extra spins here, you'll still get all chances to use the wild ones. Truth to be told, this is exactly what makes this game dominate over all other gaming solutions on the market. The Starburst is packed with a range of wild symbols that can expand and cover the entire reel when being in full operation. You might also get an opportunity to hit the re-spin mode so that you'll be all set to play once more with no extra charges. The bonus round is accessible to all casino users and will only come to an end as long as your run out of the wild icons in the course of the re-spin mode in action. If you are fortunate enough, you might even get all chances to win as much as 50,000 pounds with extreme simplicity and no extra fuss. Did we persuade you it is a worthy deal? If yes, get started right away and you'll be able to activate plenty of hidden bonuses with surprising ease!
4. Cleopatra's Pyramid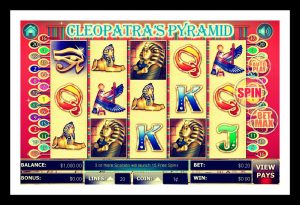 If you are a big fan of the ancient history of the world, we have good news for you, because Cleopatra's Pyramid from WGS Technology will meet your preferences with much precision. Above all, this 20 win line slot is going to add more drive by offering a few hidden extra features, such as bonus rounds and free spins accessible to gamblers of all types. You may even grab the lady luck by her tail and win up to 100,000 dollars in the form of a jackpot, but only if you take risks and place the maximum amount of cash at stake. Be that as it may, this game is as stunningly pleasant to play as the rest of gaming solutions from this developer. It will most definitely entertain you for hours on end, especially because it is packed with such a rewarding range of bonus offerings.
Adventures in Wonderland (from Ash Gaming – Playtech)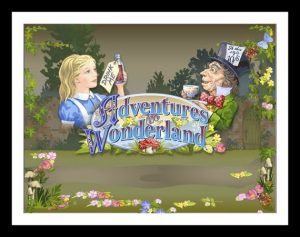 Every adult at this or that moment in one's life feels nostalgic about childhood and everything related to it, so the last offering in our list would be the Adventures in Wonderland slot from Ash Gaming (Playtech) developer that was entirely inspired by the all-favorite story from Lewis Caroll "Alice in Wonderland". This exciting slot is packed with many hidden possibilities across its five reels and twenty win lines. Here you'll encounter some of the unforgettable characters of this world-known story, such as Alice in person, Caterpillar, White Rabbit and obviously the Cheshire Cat. At the same time, the eye-catchy sound and visual effects reflect the fairytale-styled design and add more charm to the gaming process. This game boasts of having not less than three bonus games that can be activated through the use of special symbols. As such, you'll get all chances to pocket some truly fascinating wins and unravel all secrets of the storyline all along.
Have you decided what you wish to play first? Check out the best gaming solutions with both regular and hidden bonuses fully accessible at SlotsSpot! Above all, we are making sure that our online casino offers the most lucrative range of bonuses to our loyal clientele and first-time users alike so don't miss a chance to use up all opportunities on your way to winning a big fortune together with SlotsSpot!