Grand Theft Auto's GTA Online has been a popular hangout since it was first opened last year. The online casino has been serving up games of poker, roulette and blackjack alongside horse racing and slot machines to happy customers for months. There is even a gift shop where you can pick up some unique clothing items not found anywhere else in the game. Of course it helps that players get $1,000 worth of free chips every single day just for walking in the door (and visiting the friendly cashier).
After diving into the casino lifestyle for months, its safe to say that the new property is a huge hit with gamers. And that does not even take into account the big heist that opened up at the same time.
However, over the past few months, the popularity of the casino has been waning a bit. Strolling through the halls of the casino (in public instances) was starting to feel a little more empty. Sure, all of the NPCs were still there. That elderly couple that argues about eating too much are still over there by the gift shop nagging one another. But the ratio of NPCs to actual players was noticeably in decline. It got a brief reprieve when Rockstar gave $2 million away at the beginning of the year, because, what better way can you spend wads of crazy free money than at a happening casino? But then the numbers seemed to slide again.
Then the infamous coronavirus hit, and with it stay at home orders for people living in almost half of the United States, as well as lockdowns or travel restrictions in hundreds of countries around the world. People were forced to stay at home, or wanted to in order to keep safe. Suddenly, the online party at the casino was back in full swing.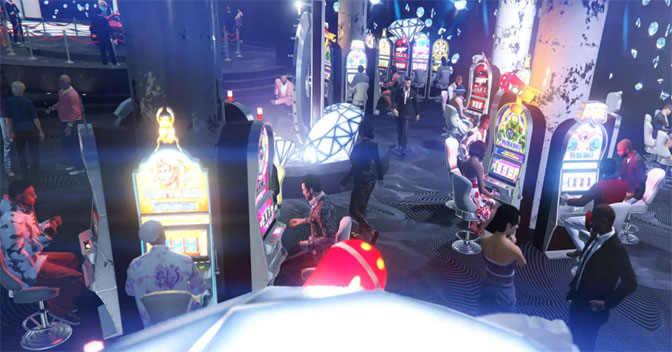 Just the other night we visited the card room and found completely full tables at blackjack and the mini-poker game. We jumped in when a seat opened up, and won so big that they congratulated us over the loud speakers while other players in the area danced and waved in celebration. What fun!
Rockstar Games is fixing to use that new popularity too. They recently agreed to donate 5 percent of all earnings from GTA Online and Red Dead Online to help fight the coronavirus. Given how many people we are seeing back at the tables, that could end up being quite a lot.
This has also peaked the interest of players in terms of casino rewards. Specifically, interest in the big spin wheel is at a fever pitch again. And no wonder. Some of the prizes on that wheel, like $30,000 in cash or unique clothing items makes our celebrated poker win look like small potatoes. Of course the big prize on the wheel is the free vehicle, as Rockstar always loads that grand prize area up with something great. Everyone is trying to figure out how to win a new prized vehicle each week.
We tried some of those tips in the various advice videos with mixed results, but ended up winning a vehicle anyway, but not by hitting the vehicle space on the big wheel. Instead, we landed on the mystery prize slot. Now, we had hit that one before a few weeks back and were awarded role-playing experience. That's nice, but nothing to really celebrate. This time however, we were given an amazing racing-class motorcycle. The thing is, the bike we won, which was delivered directly to our garage, was not the vehicle in the display area. In fact, it was better. It's incredibly fast, handles like a dream and looks pretty cool. So we guess there is more than one way to win at the casino.
If you get a taste for winning in GTA's casino, you might be on a lucky streak. In that case, with a little research, you can find plenty of great virtual casinos where you can win real money. Not only will they help to alleviate the stir crazy nature of living in lockdown, but you might just come out of your quarantine a little bit richer than when you went in. Above all else, try to stay indoors and safe, enjoy your time in a nice virtual casino, and best of luck turning your lockdown into a winning streak.