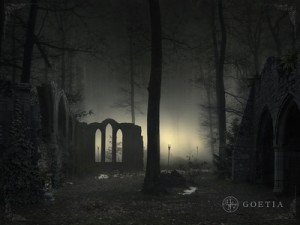 Goetia is a point-and-click adventure game set in a haunted English mansion in the middle of World War II. You take control of Abigail Blackwood, a girl who died some 40 years previously and now returned to discover the mystery of her getting back from the dead and her perverted and mad lineage. A clan whose final members devoted their life to mysticism and fanatical experiments. You have no idea what happened during those 40 years, neither who and why brought you back but, you are dedicated to discover this mystery. In the end you are already dead, so what worse than that could possibly happen?
Unlike other adventure games where you collect objects, combine and use them to solve the puzzle, here you need to become an object to push the story further. Remember that you are a ghost, and as a ghost, you can walk through walls and fly through ceilings, you can explore everywhere as you see fit. But to manipulate objects, you'll have to possess them, just like a real poltergeist would. And once you possess an object, you can't pass through walls anymore…
After a successful campaign on Square Enix Collective platform and winning the Artistic Award at the European Indie Games Days back in December 2014, the team behind Goetia is now seeking support on Kickstarter looking for $30,000 fund to be able to finish the game. You can help the team achieve this goal by visiting the campaign website and becoming one of the backers or by spreading the word about the game and Abigail's adventure.