The entire staff at Gameindustry.com is saddened to report the loss of event reporter Karen Jones, who died suddenly this week inside her New York home.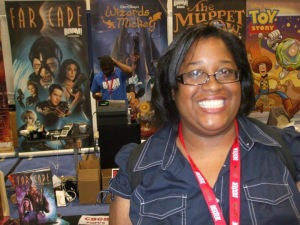 Like many of the staff here at GiN, Karen was a lifelong gamer with a love of all kinds of games played on her beloved Xbox. It was often remarked that if someone couldn't find her, she was probably busy running from zombies inside one of her favorite games. She was a joy to work with and know, and her loss is felt deeply by everyone in the GiN family.
Karen lived in Brooklyn and covered New York events for the publication. Some of her coverage included the Hank Baskett gaming party, which was hosted during the Superbowl to support sick children and their families – raising money to buy them videogames. With games being such an important part of her life, covering events like that which spread the joy of gaming was one of her great joys as well. She would often post gaming related news and triumphs on her @karenjUX Twitter account.
In addition to her work at GiN, she was the art director for Lightspeed, a leading science fiction magazine and a freelance UX designer. She was an expert in PhotoShop and Illustrator, and enjoyed looking for and working with artists on Cool Vibe and Deviant Art. She was also passionate about architecture and read anything she could find about buildings of the ancient world. She loved traveling, to game events of course, but also just getting out there and exploring the world.
Karen leaves behind a mother, a brother, several nieces and a multitude of friends. Everyone at GiN was blessed to have been touched by such a special and fun person. We all mourn the loss of one of our fallen gaming sisters.