It's not every day that a game that is neither AAA nor backed by a huge company manages to have more than one million Steam users playing at once. If you're up to date with what's hot, then it shouldn't be a surprise what game is rocking and rolling: PlayerUnknown's Battlegrounds (PUBG). It's free-for-all (not free-to-play) battle royale shooter has been making waves online, so it's expected for the game's player base to hit seven digits finally.
PUBG's Breaking Ground
On September 22, PUBG managed to get past 1.4 million concurrent players, and hit an all-time high of 1,523,179 concurrent players the following day. The game is about surviving, taking out the competition, looting PUBG Items, and running and hiding from enemies. In fact, PUBG has beaten the previous record holder, DoTA 2, which had 1.29 million concurrent players. The stellar achievement didn't happen overnight since the game started racking up much attention and player count in the past few months. It began shattering records once it got past the 500,000 mark.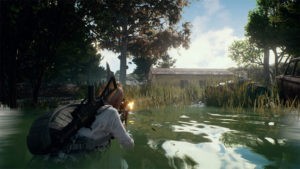 To make that number even more impressive, let's bring out Steam's concurrent player count. This year, Steam's number of concurrent players had reached 14 million, and it went to 15 million a few days later; a huge jump compared to 2015's 8.4 million. With those staggering numbers, it's safe to say that Bluehole's big break made up a tenth of Steam's peak concurrent population at one point.
Behind the Numbers
An early access game with a limited budget and almost no marketing other than word of mouth, which became the most-played game on Steam, is always a surprising and welcomed development. Well, there are several factors behind its runaway success.
First, are the words "Battle Royale." Whether the words are seen as the subgenre/game mode or the Japanese novel, movie, or manga of the same name that obviously inspired the former, and whether the players know the latter, it doesn't matter. What does it matter whether the game delivers a solid you-versus-everyone shooter-survival experience or not? Thanks to Brendan "PlayerUnknown" Greene, PUBG delivers, big time.
PlayerUnknown's history has helped PUBG gain traction. Many FPS gamers are familiar with Brendan "PlayerUnknown" Greene since he's worked on Battle Royale mods for various games under the genre. With a reputation in mod-making, it shouldn't be a surprise why players would go in droves when he finally made a game.
Twitch streamers have also greatly contributed to the game's rise to mainstream recognition. The game, after all, seems like something made perfectly for streaming because it's fun to watch people go around a map looting PUBG items and killing. Also, we can't forget about PUBG Skins. It may not be as big as a factor compared to the other three, but between a shooter where players can customize their avatar's look and another shooter that doesn't, the choice is a no-brainer.
Reigning Days Numbered?
The problem with being at the top, however, is that you'll eventually have to come down. Fortnite Battle Royale, a third-person PUBG-inspired spinoff shooter by Epic Games, managed to get 1 million players on opening day. It might be half a million shy of PUBG's, but its close. Even if Fortnite Battle Royale manages to steal PUBG's thunder, the fact that the game had 1.5 million players playing simultaneously despite being nowhere near as big as other games in the genre will always be an achievement.
Everyone loves an underdog story, and PUBG is one of them. Now, it's a big dog and a top dog. Hopefully, it stays as one for a long time in this dog-eat-dog battle royale of shooters.