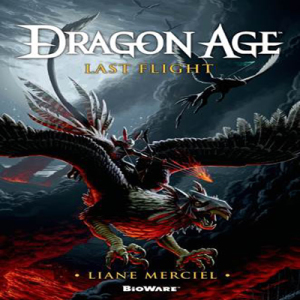 Tor Books, an imprint of Tom Doherty Associates, LLC—the largest publisher of science fiction in the world—and BioWare, a division of Electronic Arts, are thrilled to announce the on-sale availability of a new paperback and e-Book title, Dragon Age: Last Flight (ISBN 978-0-7653-3721-4; $15.99; Sept. 16, 2014). Penned by acclaimed fantasy author Liane Merciel, who wrote The River King's Road and its sequel Heaven's Needle, this is the fifth novel in the award-winning Dragon Age fantasy RPG franchise.
The team at BioWare, responsible for such beloved classics as Baldur's Gate, Neverwinter Nights, Star Wars: Knights of the Old Republic, and Mass Effect, set a new Fantasy RPG storytelling standard with the Dragon Age franchise, which has won over 80 awards between the release of Dragon Age: Origins in 2009 and Dragon Age II in March 2011. BioWare's upcoming release (Fall 2014), Dragon Age: Inquisition, is a next-generation action RPG that gives players a story-driven, open world filled with complex characters, challenging combat and difficult decisions.
The previous four Dragon Age novels, Dragon Age: The Stolen Throne (March 2009), Dragon Age: The Calling (October 2009), Dragon Age: Asunder (December 2011) and Dragon Age: The Masked Empire (April 2014), have been well-received by fans and further establish the dark, heroic nature and epic scale of the Dragon Age Universe.Dragon Age: Last Flight returns to Thedas, the setting of BioWare's award-winning Dragon Age dark fantasy RPG, and discover what dark, forgotten secrets lurk in the history of the legendary Grey Wardens.
The Grey Wardens are heroes across Thedas once again: the Archdemon has been defeated with relative ease and the scattered darkspawn are being driven back underground.  The Blight is over.  Or so it seems.
Valya, a young elven mage recently recruited into the Wardens, has been tasked with studying the historical record of previous Blights in order to gain insight into newly reported, and disturbing, darkspawn phenomena.  Her research into the Fourth Blight leads her to an encoded reference scrawled in the margins of an ancient map, and to the hidden diary of Issenya, one of the last of the fabled griffon riders.  As the dark secrets buried in Isseyna's story unfold, Valya begins to question everything she thought she knew about the heroic Grey Wardens. . . .