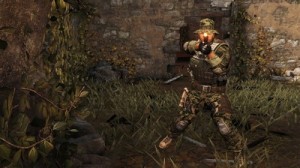 The U.S. Army today announced it has fully launched the FREE  America's Army: Proving Grounds (AA:PG) game on Steam.  The game, which was released in beta in August 2013, had more than 920,000 player accounts created during the beta period and over 7.7 million hours of play. Players can register their Soldier name for the game at the America's Army: Proving Ground website (www.americasarmy.com/register) and download the game from Steam .
"We received great feedback from our fans during the beta and with the help of our community we greatly improved the AA:PG game and experience," said Daniel Kolenich, Executive Producer for America's Army.  "We've also been blown away by some of the great creations by our fans who used our AA Mission Editor to recreate some of their favorite maps from the franchise and develop new styles of game play that AA players are already loving."
Bringing the best features of the previous versions to a new America's Army environment, AA: PG stresses small unit tactical maneuvers and training that resembles the current day Army.  America's Army: Proving Grounds (AA: PG) showcases the Army by emphasizing Army Values, teamwork, training and completing the objectives through gameplay that reflects the Soldier's Creed.
Set in a fictional country, The Republic of the Ostregals, players are in the role of an 11B Infantryman practicing combat maneuvers at JTC Griffin, a fabricated training MOUT (military operations on urban terrain) environment created by Conex modular containers.  This training is crucial to the player's success as part of a Long Range Combined Arms – Recon (LRCA-R) unit, a full spectrum capable team that embarks on special operations missions behind enemy lines.
During the beta period, the developers released many new features in the game including five new maps (Harbor Assault, Redline, Slums, Cold Front, and Intercept), new Soldier models, the M24 Sniper Weapon System, New Mission Types (C4, Take and Hold and Extract) and the Mission Editor which players have used to create more than 800 maps.  The newly launched game features a new HUD (Heads Up Display) and UI (User Interface), a new map (Overload), new camo and gear sets for the U.S. Soldiers, a progression system featuring actual Army rank, enemy weapons, weapon skins and new achievements.