As I sit here on my couch surrounded by crumpled tissues necessitated as I succumbed to this year's con plague, all I can really say about DragonCon 2014 is that it's particular brand of crazy, wonderful creativity rendered my case of the sniffles worth every single over the counter decongestant I am currently taking. As some of you, gentle readers, may remember, last year I was unable to enjoy the convention to the fullest because due to an injury, I was confined to a walking air-cast, which made getting to and ultimately through the dealers' rooms next to impossible. Therefore, my participation in DragonCon 2013 was much more limited than it was this year.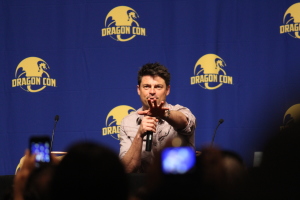 In 2014, I hit the ground running and did not stop from Thursday until Monday. In fact, this is the first year that I spent most of Thursday on site, and that is possibly one of the best nights of con. As one of the biggest fan-run conventions, DragonCon is admittedly crazy and can be slammed with people. As I was walking to my next panel on one of the days, I heard the voice of a small child behind me say, "I think DragonCon is about standing in line." That nine year old's precocious wisdom rings true. Thursday night, however, is much more relaxed, and you can actually get a seat either at High Velocity or Pulse in the Marriott. Thursday night also provides some worthwhile costume watching, more than I expected. I did not attend any formal or informally scheduled functions on Thursday because I was impressed by the quality of costumes to see.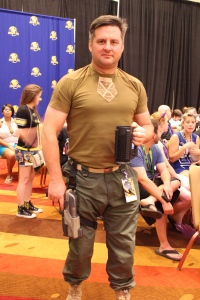 Friday was a totally different story, however. My ultimate goal was to see Karl Urban, and which fortunately was in the larger Hyatt ballroom because Urban's panel was scheduled opposite Sir Patrick Stewart's panel. I was fortunate to both get in before the panel began and to get a good seat, and it was worth every minute of standing in that line because Urban's charming, yet diplomatic approach yielded a panel that is the most fun I have yet had at a panel (and remember, I've seen the cast of Archer live).
Speaking of Sir Patrick Stewart, I tried to catch his panel on the following day after a much delayed but spectacular parade, and for the first time in the five years I have attended this convention, despite waiting in line more than an hour before the panel, I was seated twenty minutes into the panel. While I applaud the staff for starting the panel in an effort to keep to the schedule, I will also acknowledge that there is a problem when the convention is still filling a room during a 50 minute or a one hour panel. Again, DragonCon staff did their best to get as many fans into the room to see Sir Stewart and Ms. McFadden, but it still strikes me as a bit disrespectful both to the speakers and to the fans already seated to have the room continue to fill almost halfway into the panel.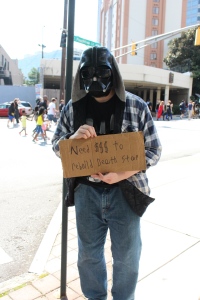 An article on DragonCon would not be complete without mentioning the after hours programming. I was fortunate enough to attend this year's Burlesque, and the performances were stellar. As always, there were plenty of concerts, including Voltaire, whose presence was somewhat surprising as he stated last year that he planned not to attend. I think my favorite of the after-hours parties, though, was the Sunday night Zombie Prom, which between the hilariously themed cocktails and the fantastic DJ, had my small band of revelers dancing into the wee hours.
As always, however, my favorite part of DragonCon isn't the celebrity panels, the fantastic Artists' Alley, the dealer halls, or even the parties. I love meeting other fans and making new friends. This year, I met Emily in the Karl Urban panel and Calvin in line for the Dealers' Hall. It was Calvin's first DragonCon, and Emily introduced me to new tea, all while waiting in line. Those moments of bonding together over a moment keep me coming back to the convention scene, and nowhere does it better than DragonCon.