CD PROJEKT RED, creators of The Witcher series of games, announce that Jan "Superjj102" Janssen has triumphed in this year's first GWENT Open tournament, which took place last weekend in Warsaw, Poland.
In the tournament, the Pro Ladder's top 8 fought for their share of a $25,000 prize pool, as well as Crown Points, awarded to tournament participants for their achievements in GWENT's official esports series. In addition to this, two players who reached the final received invitations to April's GWENT Challenger tournament.
The tournament is available to watch on the official CD PROJEKT RED Twitch channel.
January's GWENT Open started off with record-breaking fast wins (Jan "Superjj102" Janssen vs. Benjamin "Kolemoen" Pfannstiel), too close for comfort matches (Raffael "GameKingAT" Iciren vs. Evgeny "eiSloth" Androsik), and perfect games (Elias "Shaggy" Sagmeister vs. Nikolay "Cmel" Sakharov). The quarterfinals also saw Andrzej "Adzikov" Bal, one of the most consistent players of the Pro Ladder, win against Zehua "Huyahanachann" Zhao, thus breaking his "curse" by finally making it into the semifinals.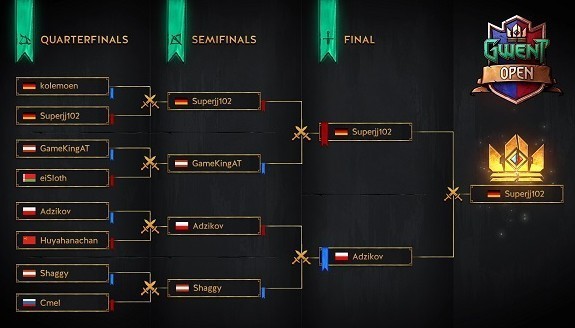 Jan "Superjj102" Janssen and Raffael "GameKingAT" Iciren's showing opened up the semifinals, the highlight being game 3 of the series. The Monster mirror battle saw both players go head to head for the most part. In the end, Iciren had to yield, with his opponent taking the win after scoring more than 200 points in final round. The match ended in a solid 3:1 win for Janssen, who advanced to the final.
The second semifinal, Andrzej "Adzikov" Bal vs. Elias "Shaggy" Sagmeister, started out with a very dominant performance by Bal, who quickly gained a 2:0 lead over Sagmeister. Despite being down 2 games, the Austrian managed to pick himself up and make a comeback, but a solid endgame by Bal denied Sagmeister the reverse sweep.
The final between Janssen and Bal began well for the Polish player, who managed to take the first game. From that point on, however, it was all Janssen. After tying it up, he proceeded to win the next battle, gaining the advantage, and ultimately defeating Bal by 3 points in game 4 of the series.