Averett University President Dr. Tiffany M. Franks and Director of Athletics Meg Stevens are proud to announce the hiring of Oscar Manzano as the first head coach of its recently launched varsity esports program.
Averett was the first four-year university in Virginia to add varsity esports – competitive video gaming with spectators – during the 2017-18 academic year. Averett is a member of two conferences, including the only varsity competitive gaming league, the National Association of Collegiate Esports (NACE), as well as the Collegiate Starleague, or CSL, a junior varsity conference.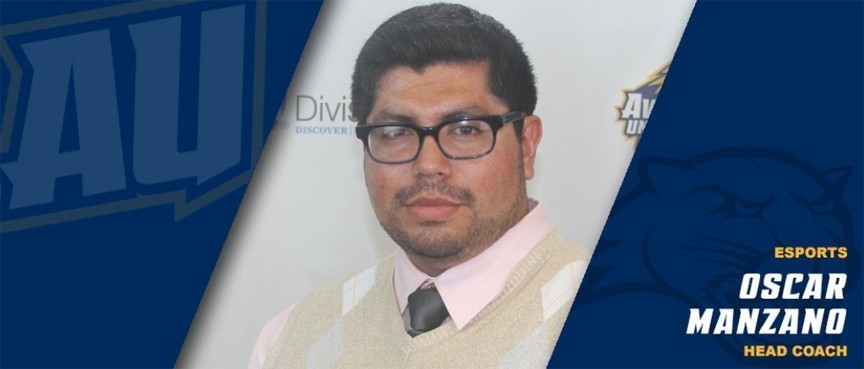 "I am very grateful and excited to begin working with Averett University on their first esports program along with visionary leaders at Averett such as President Dr. Tiffany Franks and Director of Athletics Meg Stevens," said Manzano, who will start July 9. "Collegiate esports is in its infancy and I am strongly confident that in the coming years, campuses across the United States will open its doors and host esports programs of their own. Last year, when Averett announced its new esports program, it proved that not only was it not afraid to try something new but also that Averett University will become a leader in college esports."
Averett recently received a $100,000 donation toward its esports program. The gift will go toward an expanded, renovated facility space for the team and spectators, as well as funding additional staff positions for the program. Last fall, the university announced its entrance into the quickly growing world of competitive gaming, and the program has already grown exponentially. Qualifying current students were given the opportunity to participate this past school year, and have competed against Division I, II and III schools across the country.
"With the appointment of Oscar Manzano, Averett makes its commitment to the future of competitive, intellectual team gaming," Franks said. "Averett is thrilled to welcome Coach Manzano as we help lead this new frontier in sport competition that allows students to hone their skills as critical thinkers, problem-solvers and effective communicators while pursuing their passion for competitive gaming."
Since 2017, Manzano has been a part of Invisible Threat Gaming, an organization with semi-pro teams in the esports industry. Most recently he has served as an Overwatch team manager since June 2017, where he helped recruit, train and evaluate players, coaches and analysts among other duties such as manage and supervise match play. Prior to that, he also served as a Hearthstone assistant team manager at Invisible Threat Gaming from January 2017 until June 2017. Before getting into the esports industry, Manzano worked in project management as he completed his master's degree in public administration.
"I bring that experience with me into a field that is new but rapidly growing," Manzano said. "As a coach for my previous team, I started in a similar position that I find myself now. At the time I was responsible for starting a new team for a game called Overwatch. I was the only staff that was hired and I had to recruit nine players, an analyst and an assistant and build the team's reputation. That experience taught me valuable lessons in organization, networking, training and recruiting all of which are important traits for my new position here in Averett."
A native of Santa Ana, California, Manzano earned his bachelor's degree in international relations from Ritsumeikan University in Tokyo, Japan, in 2014. He completed his master's degree in 2017 from Middlebury Institute of International Studies in Monterey, Calif.
Manzano's vision is to create a program that outshines other collegiate esports program and provides an environment where students can learn, grow and compete while preparing them for their respective careers following graduation.
"Like any other coach at Averett, I want my student-athletes to succeed in the classroom and in competition," Manzano said. "Esports is just as competitive as any other traditional sport and here at Averett, we like to win. As a coach, the most important value that I want my players to learn is how to deal with adversity. Learning how to overcome adversity as an individual and as part of a team is the biggest lesson I can pass on to my players, and esports provides the perfect environment to learn that lesson. Sports are filled with struggles and challenges, each in their own way, and esports is no different. Our goal as a team will always be to become the best that we can possibly be."
Averett currently has 11 teams within its esports program, and the number of players per team varies depending on the game. The interest among current students has been so great that the program has already outgrown the space that was created for it. Now, the university is also seeing resounding interest in esports from prospective students, and has already received 18 students who have deposited to enter the program next year.
"We are thrilled to add Oscar to our team as the first head coach of our esports program," Stevens said. "His energy and enthusiasm will help generate excitement for competitive gaming at Averett and within the esports community as the university embarks on this expansion of offerings for students."