Update: A newer version of this review is available. You can follow this link to check it out!
Welcome Time Wasters!
You know what's one of the worst feelings ever as a gamer? Looking forward to a game only to have it not meet up to expectations. It really sucks and that's the theme of this week's game, PolyRace.
I was provided with a code for PolyRace by the publisher and it looked like a really good game. Honestly, I'm willing to bet it actually is a good game. If it could be played. Every attempt I've made to play the game has failed. I'm able to get to the main screen and select a mode of play. However, when I attempt to start a race I'm greeted with a black screen. There's a small pink line at the top of the screen that appears to be a loading bar, but nothing changes once its filled. I've changed all sorts of settings, dropped the quality and attempted to run it in windowed mode, but nothing makes it playable.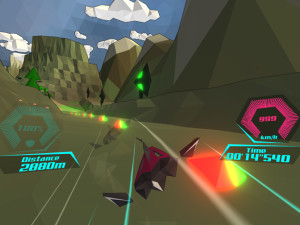 You know why this really sucks? Because I know other people have been able to play the game. There's a few reviews for it on Steam and it's been compared to F-Zero with randomly-generated levels. That definitely appeals to me. It's been way too long since Nintendo updated that franchise and I was hoping this game would scratch that itch. It's even got this really neat graphics style with lots of flat colors that is reminiscent of Nintendo 64 games.
With attempts to play this game failing this week, I'm going to be leaving this review a bit empty and throw a zero score up. As it is now, I can't recommend the game, but we live in an era when games are constantly being updated. Here's hoping that happens with PolyRace. If it does, I'll either update this article or post a new one. Either way, I hope all of you had more fun than I did while wasting time this week.