Hey Modern Gamer Fans, I'm back with another great game from the Sonic Universe, called Sonic Forces. It was released on the PlayStation 4 and was a major step in the Sonic Universe, as it took a dramatic turn. Sonic teams up with his freedom fighter pals to fight Eggman and his crew. But Eggman has been preparing something that Sonic is no match for.
Along with his evil crew of henchman, Eggman takes his new creation and baddies to the freedom fighters last stand. Sonic gets his butt handed to him and has finally been captured. Eggman's army progresses and turns the world upside down. With Sonic captured and Tails missing, now it's up to his friends the loyal freedom fighters to get him back. There's even a new recruit amount the ranks!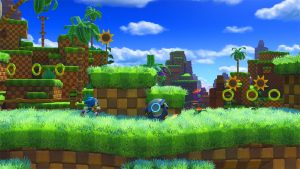 This story line is a lot darker than the rest of the Sonic games from what I remember. Which doesn't surprise me really. I've noticed a lot of entertainment trending in more dramatic storytelling. Except for Pixar's latest film, Onward. (But that's Disney for ya.)
Get this! There's a new avatar mode in Sonic Forces. Meaning you get you to choose and make your very own freedom fighter character. That new recruit is you! Which I thought, it's about time! I was wondering if they'd make a new customizable character mode. You even get a weapon that complements the new Sonic moves. What I really like is that the more missions you complete the more customized you can get. You can get all kinds of gear for your character even weapons! There are also boosters that temporarily give you abilities very similar to Sonics.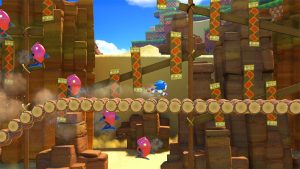 The play ability is really nice, but confusing at first. Because I'm only used to the 90's way of playing Sonic, not the newer 3D games. There's a lot of new moves, but it gets pretty easy to navigate through after a few minutes. They don't give you much time to get used to the new moves in the beginning. It does switch between different character moves though. By which I mean the different versions of Sonic over the years. (which is explained by Tails)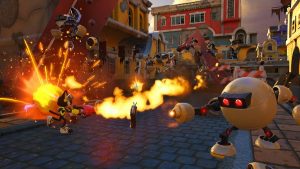 So back in the early 2000's there was console called the Dreamcast. It was supposed to be Sega's rival to PlayStation and Nintendo consoles, but there weren't enough games made on it. However, it did come out with a new open world platform Sonic game. I had a friend that owned a Dreamcast and we played Sonic on it. It was weird at first and I didn't like playing it. Mostly because it was easy to die. I'd like to say that the platform gaming for Sonic has improved a lot since it's Dreamcast creation. Again I haven't played all the sonic games.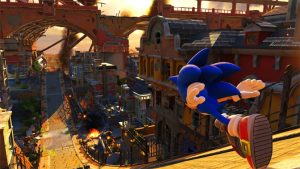 The voice acting…I don't know what to say except that most of the male characters sound the same to me, though very well played. Granted it would fit most of the personalities. The females were awesome, very distinct and well played. The graphics were beautiful and I expect nothing less of the Sonic team. All in all a perfect score of 5 GiN Gems! Thanks for now gamers, check back next week for another awesome episode!
Curious about what the Modern Gamer does in her free time? Check out woodlingsart.com and patreon.com/Shurale for more info!