Hey Modern Gamer fans! This is your hostess with the mostest coming back at ya with another really cool game! This ones called Redneck Ed: Astro Monsters Show and it's another fun 2D fighting platformer, with the essence of Rick and Morty, Ghost Rider, Redneck Rampage and Thor Ragnarok. Yep, you heard right.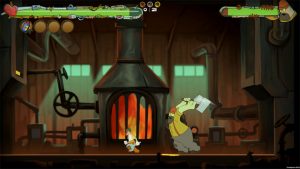 Picture this, the opening circles in on multi screens tuned into different channels. This random guy pops in and says, "We found him!" The alien at the desk then demands this guy's retrieval. And thus we fast forward to Redneck Ed at his car garage out in the sticks watching TV, when all the sudden the TV goes off and he gets a message "Ready to play?"
And then he is attacked. He awakens to a little girl holding his face. I feel kind of sorry for Ed at this point. But then you're given this tutorial about how to do the basics while chasing this brat. When you reach the end, you're both beamed up to a space ship and into a game where you have to fight for your freedom.
Then you're put back into another tutorial to learn from a new teacher. This guy looks like a floating blue spider. Ed even makes a reference to the Matrix when describing his fighting technique.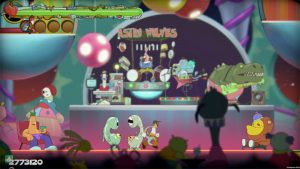 How this game works is that you fight for likes, sort of like Twitter but with death combat. When you land a hit or a combo, your likes get spewed from the monster you're fighting. Grab those as quickly as you can. Just run over them to snatch them up. After each fight you go see Dr. Frankie and get upgrades. But you pay for your upgrades in likes. So that's your currency for the game. The more likes you get, and the more upgrades you can possess the faster you can get out of this strange and dangerous place.
Although, in truth, it doesn't look like Ed really wants to leave. Who knows, he might stay and become champion of the Astro Monsters Show.
Seriously it's like that guy from the movie "Fire in the Sky" where the dude just goes up to the red light and says, "take me, I'm ready."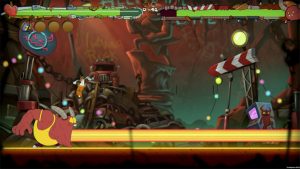 The art is actually really good. I mean the I'm digging the simplistic and well shaded cell style they have going on. The physics feel a little heavy in some areas, but you get used to it. Also Redneck Ed: Astro Monsters Show is a great game to play with your Steam controller. It's perfect for that. You should get one if you don't have it.
The art style really reminds me of the film Heavy Metal, the last one with the Story of Taarna. But Redneck Ed has a much cleaner background. The backgrounds are beautiful. They all have these amazing painting looks. Everything just fits really well together.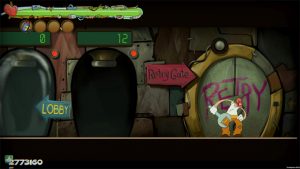 The animation is clean and well rendered. You can tell these guys have been at it for a while. I love that all this is 2D and beautifully hand drawn. And while the premise seems kind of hokey at first, it's actually hilarious. Seriously, this is something I wouldn't have expected from a game company.
Redneck needs a show to go along with this game. I think it would be a popular smash hit on Adult Swim. I think it would be better than some of the other stuff they got going on, and could rival any anime they currently put on there.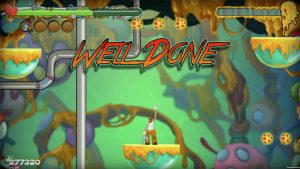 That's for this review! Tune in next week to see the latest and great to the smash hits of yesterday with Modern Gamer!
Curious about what the Modern Gamer does in her spare time? Check out woodlingsart.com and patreon.com/Shurale.
Are you Comic-Con fan? Did all your cons get canceled because of the virus? Don't want to leave home? No Prob! Check out couchcon.com where Modern Gamer will be there as WoodlingsArt.